Brazil "could be important partner" for the US, says President Rousseff
Friday, March 18th 2011 - 18:55 UTC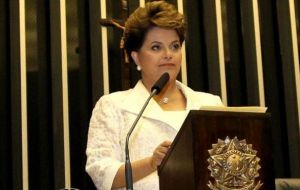 Brazil's President Dilma Rousseff said that Barak Obama's visit this weekend strongly consolidates the perception that Brazil "could be an important partner" for the United States, during a press interview.
"I believe that Obama's visit to Brazil shines a conscious light on the relationship between the countries, showing that Brazil has stepped up to it's international role." Rousseff then highlighted "also looking at historical ties with the US, plus being in the same region, gives a potential to be an important partner."
Brazil's President went on to question, "which other country in the world has the oil reserves that Brazil has, that is not at war, that does not have an ethnic conflict, which respects contracts, has clear democratic principles and vision, is generous and in favour of peace?"
Within his Latin American tour, US President Barack Obama will arrive on Saturday to Brasilia, where he will meet with Rousseff. A public speech will be held in Rio de Janeiro on Sunday originally in an open plaza but has now been rescheduled to a closed theatre.