Brazil planning to increase grain crop to 190 million tons in next decade
Friday, March 18th 2011 - 18:51 UTC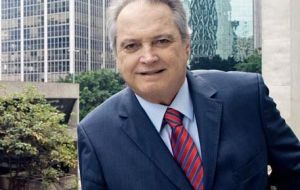 Brazil stands on the brink of becoming an agricultural superpower and is one of the few countries in the world with the climate, technology, farming practices and the sheer quantity of land to be able to satisfy the surging global appetite for food in the coming decades.
"We have a unique opportunity as a country – it's our time," says André Pessoa, director of Agroconsult, a consultancy.
Grain output in Brazil over the past 20 years has risen 150% while the planted area has grown only 25%. Much of these productivity gains have been due to domestic innovations in technology and farming practices but they are also partly thanks to increased foreign investment.
Agriculture minister Wagner Rossi says Brazil has 120m hectares of degraded land that could be converted to agriculture, which would triple the total area under cultivation.
Expanding into new areas will be necessary to achieve the government's target of increasing grain yields by more than one-quarter to 190m tonnes per year in the next decade.
Beyond crops, the government also has plans to improve productivity in the beef industry. Brazil is already the world's biggest exporter of beef with a herd of 205m head of cattle. The government hopes to increase the supply of beef over the next four to five years by 10-15% a year.
Brazil's overall exports in agribusiness have grown an average of 14% a year over the past decade to 76.4bn US dollars, with growth this year expected at 10%, according to Minister Rossi.
But not everyone accepts the government's figures, particularly on the land available for cultivation.
Agroconsult's Pessoa says that in reality, the amount of additional degraded land that could be successfully commercially farmed for crops in Brazil is probably closer to 20m hectares. And this would require some deforestation of Brazil's 'cerrado savannah forests'. Although less well-known than the Amazon, these have rich ecosystems.
"My guess is that we have less than 20m hectares [of land available for cultivation] but that's still enough to cover what the world will need in the next decade," he says. Given this potential, foreign interest in Brazilian agriculture is hardly surprising.
A study commissioned by the Organisation for Economic Co-operation and Development last year estimated global private sector investment in agriculture would reach 14bn in 2010 and could triple over the next five years.
Consultants say much of that was bound for Brazil until the foreign ownership restrictions were introduced last year, which in effect cap land ownership at 5,000 hectares by a company that is more than 50% foreign-owned.