EU/Mercosur negotiations stumble, but both sides determined to continue
Friday, March 18th 2011 - 16:46 UTC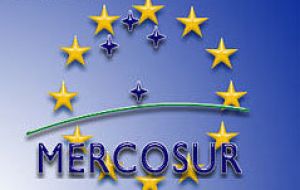 The fourth round of European Union/Mercosur negotiations for a trade agreement concluded in Brussels Friday with no major advances which could be a setback for the original plan to have a deal sealed by the end of the year.
Following five 'intense days of negotiations' delegates from the EC and Mercosur admitted that "there's still much to discuss intensely in all areas of negotiations" before an "exhaustive, balanced and ambitious" agreement can be reached.
The EC and Mercosur "continue to prepare intensively their improved trade proposals. When this task is finished, they will jointly decide a date for the simultaneous exchange of those proposals", said a brief communiqué at the end of the discussions.
Both sides had previously agreed not to make official comments to the media.
According to media sources in Brazil, the European Commission that is the EU negotiator in the round had journalists expelled from the building where talks were been held. Similarly the Mercosur top delegate, Manuel Maria Caceres Deputy Minister of Foreign and Economic Relations from Paraguay that currently holds the rotating chair of the South American group declined to talk with the press at the end of the meeting.
However Mercosur sources said that the fourth round was dedicated to chapters such as origin rules, services, investments, where some advances were recorded but there was no exchange of list of products proposals, as originally planned, because the EC requested for "more time".
"It's possible" that the first approach to trade proposals could take place in the coming round scheduled for May 2 to May 6 in Asuncion, Paraguay, but anyhow it will be "most difficult" to comply with the target of concluding negotiations at the end of 2011, as it was planned originally.
Diplomatic sources also revealed that two issues interfered with normal EU/Mercosur discussions: pressures from the EU farming lobby that involve a warning from the European Parliament and Argentina's 'protectionist policies' which are a growing obstacle for normal trade.
European delegates in Argentina said that the 'EU remains optimistic' about closing differences as well as on 'prospects and the final result of negotiations".
The EC main negotiator Joao Aguiar Machado earlier in the week warned that he was contrary to a fixed calendar for the conclusion of negotiations, even when the EU Trade Commissioner Karel de Gucht was confident an agreement could be reached by the end of 2011, a statement he repeated both in Europe and when he visited Mercosur member countries.