Chilean Central Bank unveils new 1,000 Peso banknote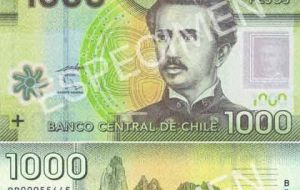 The president of Chile's Central Bank showed pictures and described the virtues of the country's new 1,000-peso (currently worth about US$2.04) banknote this week. This was the fifth and final addition Chile's new family of banknotes, which have gradually replaced bills in circulation for 30 years.
Like the new 2,000 and 5,000 peso banknotes, introduced in September 2009 and November 2010, respectively, the new 1,000 peso banknotes will be made of a durable polymeric material, and will have more security features to prevent counterfeit.
Such features include a transparent window showing the portrait of the portrayed hero on the right side of the banknote, as well as a 3D watermark bank located in the note's left-hand side.
The drawings on the bill follow the pattern of other the recently introduced banknotes, showing a Chilean hero on the front and the landscape of a famous Chilean landmark on the back.
The front of the new banknote shows a portrait of Ignacio Carrera Pinto, a captain of the Chilean army during of the 19th century War of the Pacific against Bolivia and Peru.
The National Park of Torres de Paine—a world-renowned national park in Chile's southernmost Magallanes Region—is showcased on the back.
The new bills will begin circulating on May 11, 2011, first to commercial banks and then, gradually, to ATM's located throughout the country.
By Austin Powers – Santiago Times