EU farm ministers support strong CAP with "proportional financial resources"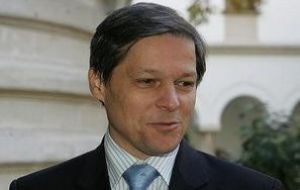 European Union agriculture ministers at the weekend rejected capping subsidies to Europe's biggest farms but compromised on a fairer share-out of funds between farmers in Eastern and Western Europe.
Meeting to discuss an overhaul of Europe's generously subsidised farms programme, the Common Agricultural Policy (CAP), 19 of the 27 ministers present agreed to the general outlines of a plan to revamp the scheme, several ministers said.
With debate continuing on how to reform the CAP "we have a good basis to look at a legislative package", said Europe's agriculture commissioner Dacian Ciolos.
Yet his proposal to set a ceiling on aid for Europe's largest farms was rejected, with a summary "taking note of significant opposition by states" to cap "direct payments to large individual farms".
Ciolos had said in an interview previously that "it is difficult to explain to outsiders that a few farmers are paid hundreds of thousands, or even millions of Euros."
In 2010, the EU spent €57 billion on agricultural development, of which €39 billion was spent on direct subsidies. Since 1992 (and especially since 2005), the EU Common Agricultural Policy has undergone significant change as subsidies have mostly been decoupled from production. The largest subsidy is the Single Farm Payment.
He reiterated that he believed the proposal would have been viewed positively by European taxpayers.
Hungarian Agriculture minister Sandor Fazekas, whose country currently holds the rotating European Union presidency, said 90% of the CAP reform proposals had been agreed by ministers present.
The summary stated that "the future CAP must remain a strong common policy as far as the EU budget is concerned, that it must be given financial resources proportional to its aims."
Some EU member states, notably Britain, regularly urge substantial cuts in the CAP budget, which currently accounts for 40% of the total EU budget. The toughest talks however, touched on how to find a new balance between subsidies to older EU states and newer eastern members who joined after 2004.
The summary said "the need for a fairer distribution of direct subsidies was recognised by reducing stage by stage the link to historical references".
It was the first time that Germany, which would be the big loser in subsidy redistribution, had agreed to discuss historical references. Poland, which absorbed 2.03 billion Euros in CAP subsidies in 2009, for its part agreed to drop demands for a fixed rate of subsidies instead.
Meanwhile French Agriculture Minister Bruno Le Maire anticipated negotiations on a new share-out would likely be "very tough".