Falklands' 2010 land-based tourism 'surprisingly good' as opposed to cruise ships
Monday, March 21st 2011 - 23:15 UTC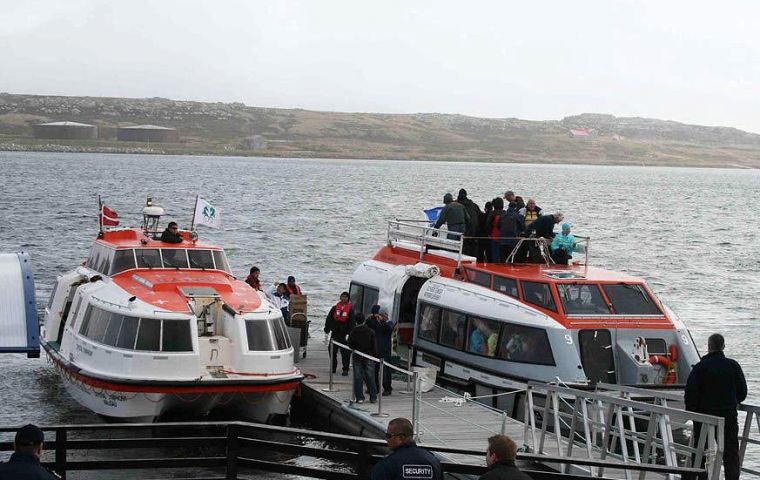 Using the United Nations definition of tourism, 2010 was a surprisingly good year for land-based, as opposed to cruise ship tourism in the Falkland Islands, with numbers up from 4,241 in 2009 to 6,017 in 20010.
However, the UN definition of a tourist includes everyone arriving in a country who is not already a resident or going to be one.
Consequently, oil workers and fishing vessel crews, who may well compete for scarce accommodation with regular tourists, are included under the heading "transit tourists."
Using this definition the increase, and the larger than expected numbers, become immediately understandable.
The figures above came from Kevin Millington of tourism consultants Acorn, who gave a presentation recently at the Chamber of Commerce, which was billed by the Falkland Islands Tourist Board (FITB) as "not to be missed" by those with an interest in tourism and its economic impacts on the Falkland Islands.
The UN breaks down tourism into four categories: leisure, visiting friends and relatives, business and transit, with the first two of these being what most people would consider to be tourists and as Mr Millington admitted, the real focus of the promotional effort of FITB.
Growth in the leisure tourism sector has been less than spectacular with a slight reduction in 2010 in all categories of visitor other than transit.
A graph showing leisure tourism arrivals revealed a barely perceptible rise over the past ten years, except for a significant peak corresponding with the 25th anniversary of the Falklands conflict.
In this context it is worth noting that with 200 fewer than the British, but still the second most numerous group of overseas visitors in the "leisure" category in 2010 came from Argentina. This suggests that remembrance by next of kin and veterans of both sides in the conflict may be challenging wildlife as a reason for visiting.
A significant and useful fact emerging from the statistics gathered is that the average daily spend by land-based tourists has risen sharply from £80 per day in 2009 to £130 in 2010.
Unfortunately Mr Millington was unable to give any figures for the per person promotional costs involved in attracting leisure tourists to the Falkland Islands, which would enable their net benefit to the economy to be better calculated.
Cruise ship arrivals for 2010 were also slightly down on the previous year, although the average number of passengers per ship had risen from 526 to 618 and the average spends on tours had also risen from £35.42 in 2009 to £48.61 in 2010.
Mr Millington has 20 years experience advising public and private sector organisations on the development of tourism, both in the UK and overseas.
He specialises in market research, tourism statistics, feasibility studies, financial and economic appraisals, tourism intelligence and forecasting. He also is a specialist in the field of measuring the economic impact of tourism.
In 2007 Mr Millington established a system of tourism statistics in the Falkland Islands, and developed a tourism statistics database for the storage and retrieval of all the information.
The system included a survey of cruise and air visitors, and domestic tourists.
In 2008 he worked with FIG on the development of a first Tourism Satellite Account for the Islands, which led to the first reliable estimate of the economic impact of tourism. Currently he compiles the quarterly Falklands Forecast publication, and is undertaking a number of small market research projects for FITB.
Mr Millington's visit was as a guest of FITB to conduct staff training on the Tourist Satellite Account and to work on what were described as "strategic research objectives."
By John Fowler – Penguin News - Stanley