US Export-Import bank loans Brazil 3 billion USD for oil and World Cup
Monday, March 21st 2011 - 21:52 UTC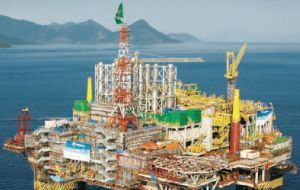 The US government's export credit agency has authorized $3 billion in financing for Brazil, including 2 billion US dollars for the Brazilian government-managed oil company Petrobras.
"Brazil is one of the main priorities of the Ex-Im Bank," said the organization's chairman and president, Fred Hochberg.
The remaining one billion USD will be for infrastructure projects, Hochberg told businessmen at a conference in Sao Paulo.
The loans will cover projects related to development of Brazil's offshore oil fields, as well as projects related to the 2014 World Cup and 2016 Olympics.
The Ex-Im Bank has previously provided funding to facilitate U.S. exports of goods and services to Brazil. In 2009, Petrobras signed a letter of intent with the Ex-Im Bank on a 10 billion USD financing package.
The U.S. is a key export market for Brazilian crude oil, and output is expected to soar as the pre-salt reserves are developed. Brazil's vast pre-salt oil and natural-gas reserves lie beneath two kilometers of the Atlantic Ocean and a farther five kilometers below sand, rock and a shifting layer of salt.
The pre-salt areas are estimated to hold between 50 billion and 100 billion barrels of oil, enough to turn Brazil into one of the world's top five producers of crude oil.
The announcement comes a day after the visit of President Obama who confirmed the US wants to become Brazil's main trade partner and client of the pre-salt deposits.