Argentine economy growing strong, benefits from imports' restrictions
Thursday, March 24th 2011 - 07:14 UTC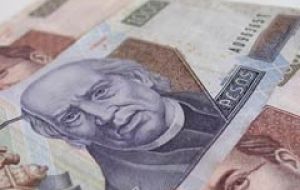 Argentina's industrial output rose sharply and the trade surplus beat market expectations during the month of February signalling that the economy is still growing strong.
Contrary to forecasts February's trade surplus widened 0.7%t from a year earlier to 608 million US dollars, a significant improvement over January, when the surplus shrank 58% year-on-year, and December's 80% plunge.
In February, exports grew 33% from the same month last year, compared with 22% in January. Import growth slowed to 39% from 52% in January.
Imports had been growing at double the rate of exports in recent months due to avid domestic demand and the local currency's appreciation against the dollar in real terms -- cutting into the government's cherished trade surplus.
"The increase in exports is due to three factors: the good grains harvest, excellent commodities prices and strong demand from Brazil" for Argentina's industrial goods, said Ramiro Castineira, an analyst at Econometrica consultancy.
He noted that higher prices for Argentine goods explained a good part of the increase in exports, while imports were generally sustained by greater volumes.
Argentina is working to protect local industry and the trade surplus. Officials expanded import permits this month to cover 50% more goods, sparking complaints from trading partners.
The trade surplus is one of the centrepieces of the current economic model, allowing the government to accumulate foreign currency reserves, which it uses to pay off debt.
Meanwhile industrial production rose 1.4% in February from January, according to the government's seasonally adjusted data, driven by textiles and basic metals. In year-on-year terms, factory output rose 9.0% in February.
The pace of growth cooled in February after hitting double digits from November through January. January and February tend to be slower months for industry due to vacation during the Southern Hemisphere's summer and planned maintenance at plants.
Castineira said industrial production was still very strong, particularly in the automotive sector, but also in other segments, which will help drive overall economic growth.
Argentina's economy expanded at a quick 9.2% last year, driven by robust consumer spending, lucrative grains exports and industrial production.