US must be more pro-active if it wants access to Brazilian oil, says Petrobras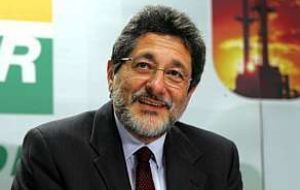 The United States must pay more importance to its strategic alliance with Brazil if it really wants to benefit from Petrobras' recently discovered deep-water oil and natural gas reserves in the Atlantic Ocean, the company's CEO, Jose Sergio Gabrielli, said.
If the US government views oil imports from Brazil as strategically important "it must create the conditions that attach importance to the strategic alliance. That's the challenge facing the United States," Gabrielli said during an investors' seminar in Rio de Janeiro.
Gabrielli said the US can boost the 'strategic' alliance by extending loans to Brazilian oil firms, offering incentives to US companies interested in operating in Brazil and providing facilities for selling Brazilian oil in the US.
During his recent visit to Brazil US President Barack Obama expressed an interest in helping Petrobras develop its massive deep water pre-salt hydrocarbons resources.
Gabrielli said Petrobras could double its proven oil reserves in a period of five years once the pre-salt deposits are declared commercially viable.
Petrobras proven reserves currently total roughly 14 billion barrels but that figure does not include between the pre-salt estimated 10-16 billion barrels which are waiting for regulatory confirmation.
Since Brazil is already oil self-sufficient and has decided to keep increasing its bio-fuel industry such as ethanol, pre-salt reserves will be mainly destined for export.
"Brazil today is the world's best development frontier for new oil production. With the pre-salt discoveries, Brazil is a country with enormous potential for boosting production over the long term," Gabrielli said.
"It's clear everyone wants to share in this process" Gabrielli said, referring to US companies' interest in exploring the pre-salt and the U.S. government's plans to become a top customer for Brazilian oil exports.
Located in a roughly 160,000-sq.-kilometer offshore area, the pre-salt fields are estimated to contain roughly 80 billion barrels of oil equivalent and could potentially transform the South American nation into a major crude exporter.
However access to those deposits is a tremendous technological and financial challenge since they are located anywhere between 5.000 and 7.000 metres below the sea bed.
Drastic changes in temperature as the oil is brought to the surface also add to the technical complexity of developing those fields.
A bill passed last year declares pre-salt reserves to be state property and stipulates that they will be explored and developed by consortiums in which Petrobras will have a minimum 30% stake.