Obama to CFK: "can we have our (US Air Force seized) equipment back"
Friday, March 25th 2011 - 01:00 UTC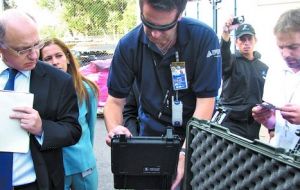 US President Barack Obama expressed concern about the recent incident in which Argentina seized part of the cargo of a US military plane that was carrying supplies for a joint military exercise, according to US newspaper The Miami Herald's Argentine columnist Andrés Oppenheimer.
President Obama this week wrapped up his first tour of Latin America which included Brazil, Chile and El Salvador. According to Wikileaks, Argentine diplomacy for months lobbied by all means to have Obama include Buenos Aires but to no success.
Allegedly Mrs. Kirchner a self declared admirer of the US president was furious with the White House decision to skip Argentina, which to a certain point helps to understand the reaction involving the US Air Force aircraft.
Oppenheimer asked Obama "whether his White House spokesman had over-reacted when he described the incident with Argentina as "serious", and whether the whole issue has already been solved", to what the US president answered "No."
Likewise, Obama said that Cristina Isabel Fernández de Kirchner's decision to seize equipment from a US Air Force cargo plane was "serious in the sense that Argentina historically has been a friend and a partner of the United States. They have some of our communications equipment. There is no reason not to return it. And next time I see President Kirchner, I will mention, 'Can we get our equipment back?' But it's not going to be a defining aspect of the US-Argentine relationship.
Oppenheimer concludes the reference to the incident saying that Obama sees the Argentine government's decision to seize the US equipment as a gross electoral propaganda move by Fernández de Kirchner's government to capitalize on anti-American sentiment in that country in anticipation of this year's presidential elections.
The incident which led to a serious diplomatic exchange was triggered February 10 when the US Air Force Globemaster III landed in Ezeiza loaded with weapons and military equipment to comply with an agreement for the training of Argentine law enforcement special forces.
Argentine Customs allegedly discovered undeclared equipment and demanded the US Air Force crew open certain boxes to which the crew refused. Finally with the personal participation of Foreign Affairs minister Hector Timerman all locks were forcibly open.
The seized equipment remains retained by Argentine Customs and supposedly will not be delivered in spite of the fact that a local judge said no crime was committed by the US aircraft, and in any case Customs was "over zealous".
Argentina went as far as demanding an apology from Washington regarding the incident and Minister Timerman called on the US embassy in Buenos Aires to recommend they abstain from public comments on the controversy.