Deaths and thousands infected with dengue in Paraguay and Bolivia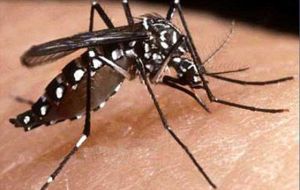 The dengue disease transmitted by the "Aedes aegypti" mosquito is again on the attack in most South American countries with Paraguay reporting 18 deaths and Bolivia, 20 and thousands infected so far this year.
"We have 18 dengue deaths confirmed in Paraguay and 2.500 infected of which 1.300 are hospitalized" said Ivan Allende head of the Sanitary Vigilance Department in Asuncion. He also called on the population to immediately report to a clinic or hospital on suspicion of having contracted the disease, which again reappeared with extreme force in late December with the rainy season.
"In previous years we never had so many people hospitalized" added Allende who indicated that only zero temperatures can help eliminate the mosquito larvae. "Until then we must insist people must collaborate watching out for stagnant water in bottles, old tyres, and flower pots and obviously in toilets and sewage".
In Bolivia the death toll has climbed to 20 and the number of infected totals 1.670. Furthermore areas in the east of the country, Santa Cruz de la Sierra, bordering with Brazil and Paraguay have been declared under "sanitary emergency".
"We've registered a peak in the epidemics this year compared to 2010, which was quite mild compared to the record year of 2009 with 22 dengue deaths and 50.000 infections with the disease", said Bolivian Health minister Nilda Heredia.
However she also pointed out that local health officials have been successful in containing the spread of the disease in the province of Beni bordering with Brazilian Amazon. The operation took place last December.
Nevertheless there is concern "since we believe a new strain of the disease has entered Bolivia from Brazil. This strain is different to the one from the two previous years and is more aggressive", said Ms Heredia.
Dengue transmitted by the aedes aegypti mosquito causes high fever, head aches, faintings, vomiting, skin eruptions and the haemorrhagic version is deadly.
Meantime from Venezuela the latest Epidemiologic report from the Ministry of Health shows that 124.931 cases of dengue were reported last year which is almost double the 65.869 from 2009. In 2010 haemorrhagic dengue was detected in 10.279 cases.
The report also admits that the disease has spread to the country's 24 provinces, although in 22 the tendency is to decrease. The areas with the greatest numbers are the most populated including metropolitan Caracas, Merida and the states of Miranda and Zulia, concludes the report.