Second Fed governor in a week against extending US stimulative policies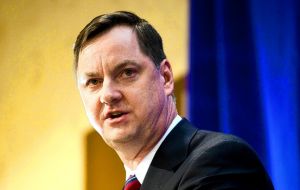 The Federal Reserve has less need to support an improving US economy beyond the 600 billion dollars Treasury purchase plan already in place, and any changes to the central bank's stimulative policies should be considered some time after the program ends, said Charles Evans, , president of the Fed's regional bank in Chicago.
"The economy definitely continues to improve each month," Evans said in a meeting with reporters at the bank. "It would be natural to expect that there would be some period of time between when the 600bn USD is completed and an assessment of a change" in the trajectory of policy.
This is the second time in a week that a voting member of the Fed FOMC argues against extending the 600 billion USD bond-buying program and should end as planned in June with no extension replacement.
Dallas Fed chief Richard Fisher said the 600 billion of quantitative easing had effectively monetized US Treasury debt and any plan to extend it would in no way tackle the economy's fundamental problem. No one was complaining about a lack of credit, he said.
"It's time to call a spade a spade. We did our job as a central bank. We may have overdone our job. We have done enough. We are at risk of doing too much. I don't believe we will" said Dallas Fed chief Richard Fisher at a Bruegel Institute think tank event in Brussels.
"My admonition to our political authorities is, 'don't look at us, look at yourselves. Come, be disciplined, be persistent, press on'. We will no longer press on the monetary pedal in my opinion" he added.
The comments from the two Fed chiefs buttress the position taken last week by Fed officials, who said the economy is on "firmer footing" and signalled they're unlikely to expand the bond purchase plan. The jobless rate unexpectedly fell to 8.9% in February, the lowest in almost two years, and employers added 192,000 jobs in a sign of growing confidence in the recovery.
"Each quarter, there seems to be more momentum going into our last FOMC meeting,' said Evans, who votes on the Federal Open Market Committee this year. ''I personally don't see as many needs for a further amount as I probably thought last fall. Last fall, I thought 600 billion was a good start and we would evaluate conditions at the appropriate time."
A decision to end the reinvestment of proceeds from maturing mortgage-backed securities "could clearly be a first step, a very modest one" toward tightening monetary policy, "which could then perhaps not be followed very quickly with other restraining moves," he said. "On the other hand, if the trajectory of the economy or inflation changes in a way that our current policy is not prepared to handle, then you'd want to take something firmer, perhaps in conjunction with introducing other tools."
"In this environment, I still think accommodation is the right decision," Evans said. "Our current low rates continue to be appropriate and will continue to be appropriate for an extended period."
Evans said the Fed is "very mindful" that prices are moving higher.
Fed officials have purchased 1.7 trillion USD of mortgage debt and Treasuries through March 2010 to pull the U.S. out of the recession. The 600bn plan is the central bank's second large-scale round of Treasury purchases.