Paraguayan economy expands an all time record of 15.3% in 2010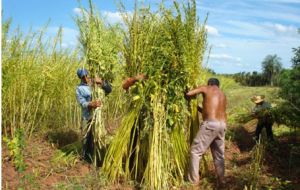 Boosted by agriculture Paraguay's economy grew an all time record of 15,3% in 2010, following on a 3.8% contraction in 2009, according to the latest release from the Central bank.
Good climate conditions, strong international demand for grains, oilseeds and beef converged to have an excellent 2009/2010 harvest representing a 50% increase over the previous season 2008/09 that had contracted 25% because of adverse weather conditions mainly insufficient rainfall. Soybean crop output was down 40%.
The performance of the Mercosur junior member economy was well ahead that of its club members (Argentina, Brazil and Uruguay) which also had excellent results in 2010. Consumption and government spending represented 53% of GDP, 21.6% investments and 9% net exports.
Analysts underscored that private consumption in 2010 expanded 9%, consolidating domestic-demand sustained increase given the additional activity plus positive expectations reflected in the purchase of durable goods.
Per capita income increased from 2.350 US dollars in 2009 to 2.766 USD last year.
Miguel Mora head of the bank's Economic Studies Department said that the volatility of agriculture production makes it very difficult to have an exact estimate of the economy's performance without the precise information, which much depends on climate and influences the number of hectares planted, harvested and yields.
"If climate is good we can have an extraordinary performance which explains this year's leap. In an economy with the Paraguayan structure it affects the overall result. We started 2010 with an estimate of 6%, later 9%, then 14% and now 15.3%, which anyhow we will review next month", said Mora,
Landlocked Paraguay is the world's No. 4 soybean exporter and relies heavily on that crop and beef sales, although the service and construction sectors also helped fuel last year's expansion.
The central bank on Friday maintained its outlook for growth in 2011 at 4%.