Yemen president negotiating terms of transfer of power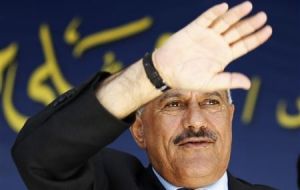 Agreement is close on a transfer of power from Yemen's veteran President, Ali Abdullah Saleh, a government minister says. After six weeks of protests, Mr Saleh has said he is willing to step down this year. But the demonstrators want him to go immediately
This is the first time the government has confirmed that President Saleh is negotiating the terms of his departure, observers say.
They add that amid the growing pressure, many see the statement by Foreign Minister Abubakr al-Qirbi - a close ally of the president - as a clear sign that Mr Saleh's resignation is now a matter of time.
It comes a day after tens of thousands people attended rival mass rallies in the capital Sanaa. Last week some 50 people were shot dead at an anti-government protest.
In recent weeks, Mr Saleh's power base has been hit by top military figures and tribal leaders joining the opposition. "I hope it will be today, before tomorrow," Mr Qirbi told Reuters news agency.
He said he was optimistic the time frame for a transfer of power could be negotiated.
"President Saleh is willing to look at all possibilities, as long as there are really serious commitments by the JMP (opposition) to come and initiate a serious dialogue between them and the ruling party," he said.
On Friday, Mr Saleh told a rally of his own supporters he was ready to hand over power, but only to "safe hands".
However some complicated issues remain, one of them Saleh's relatives: the president's son Ahmed, who is in charge of the Republican Guard and his nephew and son-in-law Yahia Saleh, who heads the security forces