Brazil only country that retains 1979 Amnesty law dictated by the military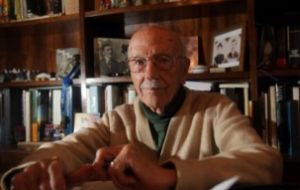 Contrary to the rest of Latin American countries, Brazil is the only where an amnesty law sanctioned by the military dictatorship in 1979 remains effective, ignoring a ruling from the Inter American Court of Human Rights, according to jurist Helio Bicudo.
"The non compliance of a decision from the Inter American Human Rights Court (linked to the Organization of American States) is an unprecedented case", said Bicudo, a Brazilian Law professor with a long political militancy and one time member of the IACHR.
In 2010 the IACHR made public a condemnation of Brazil for insisting in making effective the Amnesty Law from 1979 which was signed by then dictator Joao Baptista Figueredo, the last of the military rulers under the military regime from 1964 to 1985.
Last week the Court made official its ruling contrary to an 1986 amnesty law sanctioned by Uruguay under the government of President Julio Maria Sanguinetti, the first elected leader following the recovery of democracy. However that bill in Uruguay was twice ratified by referendums in 1989 and again in 2009.
"The Amnesty Law (1979) is a specific case of Brazil and must have a reply from the state of Brazil. The government must order the Prosecutor's Office to take the necessary measures to ensure its extinction and proceed to the investigation of hundreds of killings and disappearances under the military regime", added Bicudo who was also one of the founders of the ruling Workers Party.
At the end of his two four year mandates former president Lula da Silva attempted to overcome the situation by announcing the derogation of the bill, spurred by the pro human rights lobby inside his government, but Defence minister Nelson Jobim and the three commanders of the Brazilian Armed Forces presented their resignations.
Lula da Silva back stepped and went further he extended for another thirty years Brazil's secret acts pertaining to that controversial period of Brazilian history.
Defence minister Jobim who continues under President Dilma Rousseff is also a prestigious and recognized jurist, former Justice Minister, former member of the country's Supreme Court and at one time chairman of Brazil's largest political party, the PMDB.
President Rousseff, herself a former member of guerrilla groups in the late sixties and early seventies who was subject to torture while under arrest by the military for her involvement as a university student in support of those groups, has promised to promote a Truth Commission on the crimes and abuses committed during those years.