Former president Clinton apologized for the financial crisis triggered by the US
Tuesday, March 29th 2011 - 04:50 UTC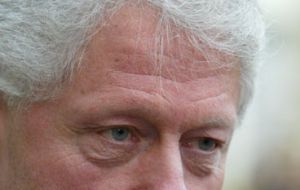 Former US president Bill Clinton apologized for the international financial crisis which triggered by the United States in 2008 and rapidly extended to the rest of the world.
"People are living in a world considerably more unstable and that threatens the future of our children. I have been considering the financial crisis, which started in the US and I apologize for that, and then spread to Ireland and the United Kingdom. Overnight Iceland's government was gone and China lost an estimated 35 million jobs" said Clinton during a discussion table at the World Forum on Sustainability taking place in the Amazon city of Manaos, Brazil.
Clinton said that political and economic instability are one of three major problems the world is currently facing. The other two are the climate change issue and economic inequality both inside countries and among countries.
Insisting on the instability and lack of security issue, Clinton mentioned the Wikileaks cables which have been exposing confidential documents, information and assessments from the US government.
"People are entering other peoples' computers. Look as Wikileaks, now everybody knows all about what the US diplomats are thinking, writing, acting…" pointed out the former US president at the largest city in the Brazilian rainforest state of Amazonas.
Clinton also said he was against building more hydroelectric dams in the Brazilian Amazon and insisted he had no patience for people who said there were on alternatives to building hydroelectric dams.
"What is the alternative? You need electricity and you need to preserve the forest. But 20% of the world's oxygen comes from the Amazon. It's not an easy decision, but you have to think about these things, and about the future of your children and grandchildren. You also have to consider the indigenous population, the wildlife, and the plant species that can be used to cure illnesses and will be affected by building these dams," he said, adding that one other alternative was to dig up old landfills and burn the recyclable matter to create energy.
But hydroelectricity powers nearly all of Brazil. At least 82% of the electricity in the country is generated from dams, according to the Ministry of Energy. Brazil currently has a surplus of energy, but will face a deficit by 2015 — a year before the Olympic Games come to Rio de Janeiro — if it does not build out 5,000 megawatts of new power stations each year.
Furthermore hydroelectric dams are being built all the time in Brazil as part of the government's clean energy policies. The problem is that most of the water resources to build the new dams are all located in the Amazon biome, which accounts for nearly 50% of Brazil's landmass.