Jose Comblin, one of the Liberation theology ideologues dies in Brazil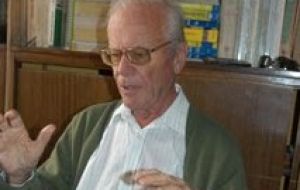 The renowned theologian Jose Comblin one of the most important representatives of Latin America's liberation theology has died in Brazil of natural causes. The Catholic Church in Brazil announced that Comblin died Sunday at a hospital in the city of Salvador. He was 88.
The priest was born in Brussels, Belgium, in 1923. He was ordained in 1947 after having studied at the Louvain University and moved to Brazil in 1958. He also worked in Chile, teaching at or leading seminaries in both countries.
Comblin became a leading exponent of liberation theology, which advocates activism on behalf of the poor. The movement swept Latin America in the 1960s following the Second Vatican Council. He specialized in spreading the gospel in rural areas.
Comblin was forced out of Brazil in 1971 by the military dictatorship and lived in Chile for eight years, but was kicked out in 1980 by the government of August Pinochet.
He wrote several books among which, "Liberation theology", "Being Human, a Christian anthropology"; "Call for freedom: the changing context of liberation theology"; "The holy spirit and liberation"; "People of God"; "National security theology".
Comblin was also one of the main followers and advisors of Brazilian bishop Helder Camara, who under the military dictatorship was identified as the "red bishop" for his defence of human rights and the Church's option for the poor. Comblin was invited by Camara to teach at the Recife Theology Institute.
He was currently working in the impoverished Brazilian northeast rural areas.