Falklands' Desire Petroleum announces drilling of sixth well has begun
Wednesday, March 30th 2011 - 05:21 UTC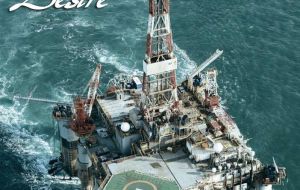 The Falkland Islands hydrocarbons exploratory round begun over a year ago is steaming ahead. Desire Petroleum announced Tuesday it had begun exploratory drilling on the Ninky prospect with a total planned depth of 2.620 metres.
The exploration will be carried out by the 'Ocean Guardian' rig contracted by Desire from Diamond Offshore and which since March 2010 has been doing all the drilling in Falklands' waters for Desire and the other oil companies licensed by the Falkland Islands government.
To date Desire has drilled five wells: Liz, Rachel, Rachel Sidetrack, Rachel North, and Dawn/Jacinta. 'Ocean Guardian' discovered two potential gas zones in the Liz well. According to the release "Desire Petroleum plc (DES:AIM) the oil and gas company wholly focussed on the North Falkland Basin announces that the 14/15-3 exploration well on the Ninky prospect was spudded at 02.45 BST on 29 March 2011".
The prospect is a combined structural dip and stratigraphic pinch-out trap with multiple reservoir targets within the Barremian source rock interval. The well has a planned total depth of circa 2,620 metres and drilling operations are expected to take approximately 30 days. Rockhopper Exploration has a 7.5% interest in the well.
Desire is currently involved in an extensive 3D seismic programme concentrating on the East Flank Play Fairway.
Desire Petroleum plc is a UK company listed on the Alternative Investment Market (AIM), dedicated to exploring for oil and gas in the North Falkland Basin.

Directorate Change
The Board of Desire Petroleum plc ("Desire") is pleased to announce the appointment of Mr Ken Black as Exploration Director.
Aged 51, Ken is a petroleum geoscientist with 30 years experience in the oil industry. He began his career as a geophysicist with BNOC/Britoil before moving to Clyde Petroleum Plc where he became an exploration team leader. In 1994 he moved to Production Geoscience Limited (PGL). As a director in the business from 1996, he helped grow PGL into a renowned subsurface consultancy, providing global geosciences services in exploration and development. He was appointed a director Senergy Holdings Limited following the merger with PGL in 2007.
In October 2010 he was appointed Exploration Manager for Desire having previously worked on the licences for a number of years through Senergy/PGL.
Stephen Phipps (Chairman) said:
"I am delighted that a professional of Ken Black's stature has joined the Desire Board. The appointment underlines Desire's belief in, and commitment to, exploration in the North Falkland Basin. Ken has been familiar with Desire's prospects over the five years that he has worked on our behalf, initially as a consultant, and latterly since October 2010 as our Exploration Manager. He brings a wealth of Falkland oil experience to the Board."