Massive 'Martyr's Day' demonstrations challenge to Syrian government
Friday, April 1st 2011 - 00:09 UTC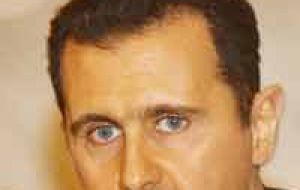 Facing a massive protest movement demanding reform, Syria's president has set up committees to look into the deaths of civilians during nearly two weeks of unrest and replacing decades-old emergency laws.
Thursday's move appears to be a carefully designed attempt by President Bashar al-Assad to show he will not be pressured to implement reform instead, he will make changes at his own pace.
The state-run Syrian Arab News Agency (SANA) reported on Thursday that investigative committees have been set up to look into possible causes in the deaths of protesters, including the 1962 census in east Syria, which resulted in many Kurds being denied nationality.
On Wednesday, Assad defied expectations that he would announce sweeping changes, instead blaming two weeks of popular revolt on a foreign conspiracy during his first public address since the protests began.
It was not immediately clear whether Thursday's overtures would succeed in pacifying a growing protest movement in one of regions most autocratic regimes.
Al Jazeera's Rula Amin, reporting from Damascus, says the "promise of investigation", a day after Assad failed to announce any reforms during his widely anticipated speech, proves that the Syrian government "is going to move at its own pace with regard to change".
Activists have called for massive demonstrations across Syrian provinces on Friday, dubbing it "Martyrs Day''. The day could prove to be a turning point in the country's future.
Syrian TV said the ruling Baath Party's regional command formed a committee made up of legal experts to study legislation that would "guarantee the country's security and dignity of Syrians and combat terrorism''.
"This would pave the way for lifting the state of emergency laws,'' it said. The widely despised, decades-old emergency laws give the regime a free hand to arrest people without charge.
The state-run news agency said the committee would complete its study by April 25.
Syrian TV also said Assad has set up a judicial committee tasked with urgently investigating the circumstances that led to the death of Syrian civilians and security forces in the southern city of Daraa and port city of Latakia.
Assad dismissed his 32 member cabinet on Tuesday in a move designed to mollify the anti-government protesters, but the overture was largely symbolic.
Assad holds the lion's share of power in the authoritarian regime, and there are no real opposition figures or alternatives to the current leadership.
The protests were sparked off by the arrest of several teenagers who wrote anti-government graffiti on walls in the southern city of Daraa. They spread to other parts of the country last week, and human rights groups say more than 60 people have been killed since March 18 as security forces cracked down on the demonstrations.