Spanish Socialist PM steps down from 2012 re-election bid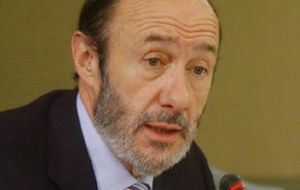 The Socialist Spanish Prime Minister, Jose Luis Rodriguez Zapatero, says he will not seek a third term in the country's general election next year. Spain is in the midst of a deep recession. At 20% it has the highest unemployment rate in the Euro zone.
Rodriguez Zapatero's popularity plunged after imposing spending cuts and labor reform to keep Spain from falling into a fiscal crisis.
"When I was elected as Prime Minister in 2004, I thought that two periods was the reasonable time to be at the frontline in charge of the destiny of the country, two periods, eight years, no more".
The announcement at his party's annual conference comes just seven weeks before the local and regional elections in May. It is thought the timing of his decision could boost the party's chances at the polls. Other analysts say it could provoke a period of uncertainty.
The Socialists now have to choose a new leader, which will be up to the party's Federal Committee. One possible contender is the popular Deputy Prime Minister, Alfredo Perez Rubalcaba, whose experience will go in his favor. Another is the Defense Minister, Carmen Chacón.
Whoever is chosen will face an uphill struggle to revive both the party's popularity, as well as the economy.
Recent polls show the Socialist party about 13 percentage points behind the conservative PP and analysts say reducing that gap will be extremely difficult unless the economy bounces back strongly.
"Can the economy recover? That's the million dollar question," said Ramon Cotarelo, a political science professor at Madrid's Complutense University. "Thirteen points difference in the polls is a vast amount and if the economy maintains its current performance it is going to be very difficult for the Socialists to overcome it."
The PP is widely expected to field leader Mariano Rajoy as its candidate next year. He did not immediately comment on Rodriguez Zapatero's decision, but the party said in a statement that the Socialist government should call early elections this year instead of waiting next year.
Over the past year, the PP has continually called on the Socialist party to hold early elections so the country can be given a chance to replace what Rajoy has called "a disastrous government."