Obama launches his 2012 re-election campaign with a video titled "It Begins With Us"
Tuesday, April 5th 2011 - 10:18 UTC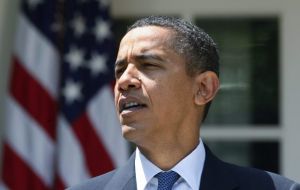 President Barack Obama launched on Monday his 2012 re-election campaign, framing his final stint as a candidate as an effort to cement and expand the policies he has enacted from the White House.

Obama said in a low-key email to supporters that he was filing papers to start his re-election bid in a formal way.

"So even though I'm focused on the job you elected me to do, and the race may not reach full speed for a year or more, the work of laying the foundation for our campaign must start today," he said in the email.

"We've always known that lasting change wouldn't come quickly or easily. ... But as my administration and folks across the country fight to protect the progress we've made - and make more - we also need to begin mobilizing for 2012, long before the time comes for me to begin campaigning in earnest."

"In the coming days, supporters like you will begin forging a new organization that we'll build together in cities and towns across the country," he said in the note.

"And I'll need you to help shape our plan as we create a campaign that's farther reaching, more focused, and more innovative than anything we've built before."

A two-minute, 10-second video on the site, titled "It Begins With Us," features supporters from around the country discussing the Democratic president and the state of the nation. But Obama is not shown or heard.