Pickets' leader demanding extortion sum from Clarin captured on video
Tuesday, April 5th 2011 - 22:12 UTC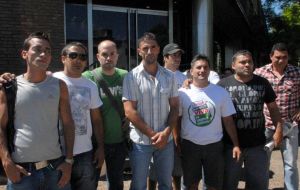 Argentina's most important daily Clarin has filed an extortion complaint against the leader of the pickets that have prevented the circulation of the newspaper by blocking distribution at the press plant and who was recorded in a tape asking for the equivalent of 2.2 million US dollars to end the attacks.
The tape was presented in court and also involves the administration of President Cristina Fernandez de Kirchner and the powerful leader of Argentina's organized labour confederation, Hugo Moyano.
According to Clarin's digital version Artes Graficas Rioplantenses, AGR, a company belonging to the Clarin conglomerate claims is was victim of pickets and money extortion by union leader Luis Siri, who has been the visible head of the reiterated organized labour attacks on Clarin and to a lesser extent against La Nacion, impeding or delaying their distributions.
"The filed complaint is based on statements from Siri, last February 17 with representatives from AGR, who was taped on video. Siri together with Christian Quiroz, a union leader from AGR, openly admit there are no labour conflicts either with AGR or with AGEA, both belonging to Clarin".
In the tape Siri warns that if an agreement is not reached, including the money extortion, Clarin runs the risk of not being able to circulate. Furthermore he boasts "his links with the (Argentine) government and with the chairman of the organized labour confederation, Hugo Moyano, through his son, who heads the powerful teamsters union, which participated in the blocking pickets.
"I'm also exposed to pressures from up. They call me and ask, what are you going to do? I have meetings all the time and each time he calls me (Moyano Sr) we're with the son of Moyano", Siri admits on the secretly recorded tape.
Over fifty pickets supported with trucks blocked Sunday 27 March the printing plant of Clarin thus preventing the newspaper circulation, with total passivity from government authorities in spite of a court order in support of Clarin which has suffered reiterated "mob" attacks the latest of which Sunday April 3, at an affiliate in Cordoba, Argentina's second most important province.
According to the tape when Siri is asked why the 9 million Pesos to stop the attacks and threats, he replies the question is not a labour dispute but political.
"If we consider it a labour dispute, salaries, categories, when we add up, we are going to reach a certain sum. But this is not industrial dispute, this is political. If we measure it in political terms, you are going to say 'six and a half year of conflict, millions of pesos lost and maybe even the newspaper. Thus if you measure this in labour terms and the end of a labour contract, you're wrong. If you address it and evaluate it in political terms, you are going to understand the conflict. I think it will be more profitable for you to agree to the sum", said the pickets' leader.
Siri went further: "I don't want to threaten but today we have a capacity of destruction that we did not have a few years ago. Thus I, we have the capacity of stopping the workshop whenever we want; we have the possibility of stopping the newspaper from circulating whenever we decide. I repeat, we have a capacity to harm, our capacity to cause you damage is enormous currently. I suggest you agree to the terms".