Uruguay has no plans to issue new debt: 2011 obligations comfortably covered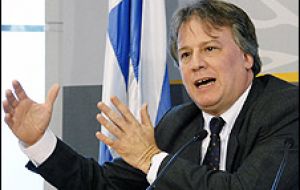 Uruguay's economy minister said the country had no concrete plan to issue new debt because it had already covered 2011 obligations and debt servicing costs will fall in 2012. Nevertheless he complained about the "poor treatment" of Uruguay by the risk rating agencies.
The Uruguayan economy expanded 8.5% in 2010, the eighth year running, fuelled by windfall earnings from the export of commodities which helped boost domestic demand and massive inflow of capital looking for better profits than in the developed world.
"Our debt payments are covered in 2011, a year in which we had a significant concentration of them ... In 2012, the situation is more comfortable because the weight (of the payments) will fall versus GDP," said Economy Minister Fernando Lorenzo.
He said Uruguay's debt amortization costs would fall to below 1% of GDP 2012, from between 3% and 4% of GDP this year. The country must pay 2.16 billion USD to service its debt this year, compared with 1.05bn in 2012.
Uruguay's total gross debt amounts to 21.14 billion, or 50% of GDP. Lorenzo said the country aims to reduce this to 40% by 2015. There is therefore no plan to issue new debt for now, although Lorenzo said this possibility could not be ruled out.
"This year's financing program is absolutely covered. It was the last year in which we had a significant concentration of obligations" he said.
Uruguay lost its investment grade rating in 2002 at the height of a financial crisis, contagion from Argentina, but the economy has grown every year since 2003, following a four year recession.
Lorenzo said credit rating agencies had "treated Uruguay poorly" by failing to return the country to investment-grade status despite the country's solid economic performance since 2002.
Moody's Investors Service raised the sovereign foreign currency credit rating for Uruguay in December by two notches to Ba1 from Ba3, leaving it just below investment grade, citing improved debt and fiscal indicators.
It was one notch higher than the BB rating held by both Standard & Poor's and Fitch Ratings, which raised their ratings earlier last year.