Instituto Cervantes at a new home in Gibraltar with a vast program of activities
Wednesday, April 6th 2011 - 19:48 UTC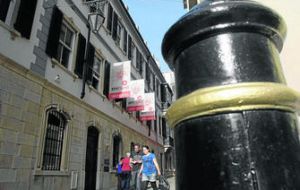 Spain's Instituto Cervantes for the promotion of Spanish language and culture opened this week its doors at Cloister Building in Gibraltar. The local director of the institute, Francisco Oda said that the centre was ready to welcome everyone now that it had moved to its home in Market Lane.
The centre will house a lending library of Spanish books, DVDs and CDs, and will also make Spanish language newspapers and magazines available for all to read on its premises. It will also have research and internet facilities – the Cervantes Virtual centre is one of the main internet reference centres related to the Spanish language and Spanish-speaking countries.
With classrooms and conference facilities the Instituto Cervantes offers courses in the Spanish language for children, teenagers and specific course in relation to finance, law, etc. Classes are scheduled to begin at the end of April. The Cervantes will be showing films in the Spanish language on Monday nights, and will also be introducing its own cultural program of events in the coming weeks. This will include theatrical performances on its premises alongside poetry readings, recitals, literary events, round table discussions and dance, on Spain and Latin America.
The property was made available to the Instituto Cervantes by Joe Gaggero, who for many years had his Bland offices there, on a lease with a low rent. Mr Gaggero, heads the Gaggero Foundation which also refurbished a section of the London based Chatham House.