UK increases funds for South Georgia and the British Antarctic Territory
Wednesday, April 6th 2011 - 15:48 UTC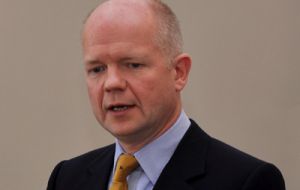 The UK Government has announced it is to increase funds for South Georgia and the other UK Overseas Territories. On March 10th the UK Secretary of State for Foreign and Commonwealth Affairs, William Hague, announced the increase of the Overseas Territories Programme Fund to £7m per year and a special one off payment of £1 million to GSGSSI this year, reports the March edition of South Georgia Newsletter.
In a statement made on March 10th, William Hague said: "We will continue vigorously to uphold the principle of self-determination and to ensure the continued security of all the Overseas Territories. We set this commitment out clearly in the Strategic Defence and Security Review.
We want to help the Territories plan their future in a competitive and unpredictable world. We will help Territories that are struggling economically to avoid unnecessary financial dependence on the UK. We will help Territories that now rely on UK financial support to reduce their dependence and pursue the path towards economic sustainability. We will ensure a sustained and robust British presence in our uninhabited Territories to protect them for future generations."
The Foreign Secretary also said: "In addition I have reallocated resources in the current financial year to help rectify some of the budgetary weaknesses which have emerged in some Territories in recent years." Included in this section was £1m to the GSGSSI "to strengthen their reserves in the face of recent reductions in fisheries revenue". There was also £100,000 that will ultimately go to the Antarctic Heritage Trust to be used to support the Trust´s work repairing and maintaining heritage sites in the British Antarctic Territory.
William Hague said "Maintaining British heritage sites are part and parcel of demonstrating UK sovereignty in Antarctica".