Venezuela admits an annual inflation of 27.4% in the last twelve months
Wednesday, April 6th 2011 - 06:32 UTC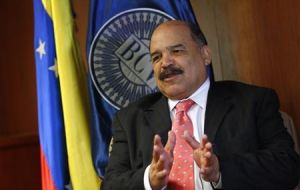 Venezuela's nationwide consumer price index (NCPI), prepared by the Central Bank of Venezuela (BCV) and the National Statistics Institute (INE), showed a 1.4% increase in March 2011 compared to February 2011.
The increase is lower than that recorded in the previous month (1.7%) and considerably lowers than in March 2010 (2.4%). Following these results, Venezuela's accumulated inflation at the end of the first quarter of 2011 stands at 6%, slightly higher than the accumulated inflation reported in the same period of 2010 (5.8%).
Inflation for the 12-month period through March 2011 was 27.4%, slightly lower than in the previous month. However it is among the highest in the world.
Food and nonalcoholic beverage prices, which had been a main driver of inflation earlier in the year, posted a 0.8% increase in March, while for the same period the household equipment sector posted the highest increase at 2.8%, the central bank reported.
The Caracas inflation indicator has risen by at least 1% for 44 consecutive months, according to Goldman Sachs, as Venezuela continues to grapple with its latest currency devaluation along with food shortages and higher import costs.
Venezuela devalued its currency at the start of the year by unifying its multi-tiered exchange rate to 4.3 Bolivar per dollar but many analysts believe another adjustment is needed because the Bolivar remains overvalued.
On Tuesday Central Bank President Nelson Merentes discounted the possibility of devaluation, saying in an interview published in the local El Nacional newspaper that "the adjustments that had to be made, have already been made."
Last month, the government announced a significant increase in state-set price caps on basic bread and pasta products, citing rising import costs.