Wikileaks knocks out second US ambassador in Latam: this time in Ecuador
Wednesday, April 6th 2011 - 06:37 UTC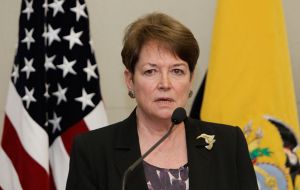 Ecuador is expelling the U.S. ambassador over a 2009 diplomatic cable released by WikiLeaks in which the diplomat accused the country's former police chief of corruption.
Ecuador's foreign minister, Ricardo Patiño, Tuesday declared Ambassador Heather Hodges "persona non grata" (an unwelcome person) and asked her to leave the country "in the shortest time possible."
The U.S. State Department said the expulsion was unjustified and that Washington will examine its options. Spokesman Mark Toner said Ecuador did not specify why she was deemed persona non grata.
Patiño said he met with Hodges on Monday but had not received a satisfactory explanation about the cable. He said it did not mean that Ecuador was breaking relations with the U.S.
The cable, published in a Madrid newspaper on Monday, centers on Jaime Hurtado Vaca, who was Ecuador's national police commander from April 2008 until June 2009.
According to the paper, Hodges says the commander should be stripped of his U.S. visa, alleging he used his position to commit financial crimes, facilitate human trafficking and obstruct investigations of corrupt colleagues.
She said corruption in Ecuador's national police force was "widespread and well-known."
Hodges is the second U.S. envoy in Latin America to run into difficulty in a host country based on leaked diplomatic cables.
WikiLeaks has divulged thousands of cables from U.S. embassies around the globe and documents related to U.S. military operations in Iraq and Afghanistan.
Last month, the U.S. ambassador to Mexico, Carlos Pascual, resigned after a leaked cable showed that the diplomat doubted the Mexican government's ability to combat that nation's drug war.