Paul McCartney plays Chile: All You Need Is Love, but US$2,250 would help
Friday, April 8th 2011 - 23:52 UTC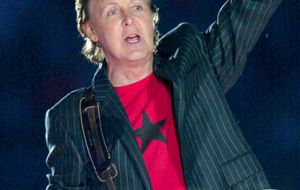 British music icon Paul McCartney has confirmed that he will play the Estadio Nacional in Santiago on May 11 this year. It will be the star's second show in Chile; he played the same venue in December 1993.
The second most expensive ticket package will set fans back 532,000 Chilean pesos, or 1,126 US dollars, which would by far qualify it as the most expensive concert ticket in Chile's history.
The record was previously held by Mexican singer Luis Miguel, for 509 USD, followed by Madonna for 502 USD.
The most expensive ticket to see the former Beatle will cost a massive 2,250 USD, blowing all previous records out of the water. This ticket price will include front row seating, merchandise, and entry to the pre-show sound test.
The cheapest tickets, which go on sale at Falabella department stores and at Ticketmaster on Saturday at midnight, will cost around 60 USD, with the next most expensive costing 93 USD.
There will be both seating and standing tickets.
The former Beatles singer and guitarist will play 36 songs spanning his entire career, with 22 Beatles songs, 10 Wings songs and two songs by The Firemen and two songs from his solo career.
"Eleventh of May, Estadio Nacional, see you there, let's rock" said "Macca" in a video broadcast on Chilevisión.
By Phil Locker - Santiago Times