Peru presidential hopefuls: "Leprosy, Yellow Fever; Alzheimer; Cirrhosis and Autism"
Friday, April 8th 2011 - 23:05 UTC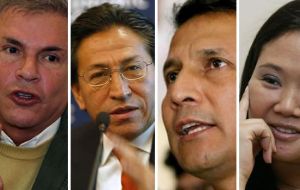 Peruvian voters appealed to clever and skilful mechanisms using the Twitter net to avoid the ban on releasing the latest public opinion polls ahead of Sunday's April 10 presidential election.
Smart broadcasters used names of sicknesses, food, historic figures and even countries to relate the leading presidential hopefuls.
One of the most celebrated and re-twitted was the poll launched by 'Philip Revolt' under the name of "Toxic-for-health": Leprosy, 28%; Yellow Fever, 22%; Alzheimer, 19%; Cirrhosis, 19% and Autism, 10%.
They refer to nationalist Ollanta Humala (Leprosy); Keiko Fujimori (Yellow Fever); Pedro Pablo Kuzcynski (72) (Alzheimer); former president Alberto Toledo (cirrhosis) and former Lima mayor Luis Castañeda (Autism).
Another Twitter messenger gave the following names: General Simon Bolivar, 28%; General Hideki Tojo, 21.5%; General Robert Lee, 18%; Cahuide (Inca general), 18% and Chapulin Colorado (a Mexican television comic actor).
Using country names the list was: Venezuela; Japan; United States; Peru or names of famous pop singers from those countries.
The Twitter comments refer to the latest polls filtered to the press by the business community and attributed to pollsters Apoyo and CPI.
According to Apoyo, Humala has 28%; Keiko Fujimori, 21.5%; Kuczynski, 19.3% and Toledo, 15.3%.
However, the CPI percentages show Humala with 29.8%; Fujimori with 21% and Kuczynski and Toledo with 18% each.
Humala is linked to Venezuela because of the alleged support from President Hugo Chavez who the candidate rejects vehemently. Fujimori with Japan because of her father Alberto Fujimori of Japanese origin; Kuczynski is called "gringo" since he speaks Spanish with a foreign accent and Toledo with Peruvian food and heroes given his indigenous ancestors.