Barcelona in unofficial referendum votes for independence from Spain
Monday, April 11th 2011 - 22:32 UTC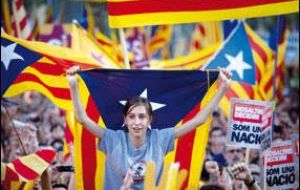 The citizens of the Spanish city of Barcelona voted on Sunday by more than 90% in favor of independence for the province of Catalonia from the central government in Madrid.
The unofficial referendum was organized by Decideix, which describes itself as "a citizen's initiative to organize a referendum in the city of Barcelona on Catalonia's independence from Spain".
The referendum had a 21.37% turnout with 257,745 participants, including registered foreign immigrants and anyone over 16. Critics say this had more to do with warm spring-like weather than political commitment and democracy. They also argue that turnout has been largely limited to separatists, with the results overwhelmingly in favor of Catalonia splitting from Spain.
Barcelona is the last city, and the second biggest in Spain, to symbolically decide about independence following a series of plebiscites across Catalonia over the past 18 months.
The Spanish government has tried to stop all unofficial referendums but so far 515 Catalan towns and villages have held them, around half of Catalonia's municipalities.
Next Wednesday, April 13, the Catalan parliament will debate a bill to unilaterally declare independence from Spain.
Catalonia accounts for around 25% of Spain's GDP, about one seventh of the Spanish population (47 million) and has long complained it contributes more than a fair share. Many Catalans, proud of their cultural identity and language, feel they get a raw deal from Madrid.
Along with the Basque region, Catalonia was heavily oppressed under the 1939-1975 dictatorship of General Francisco Franco, which made it a crime to speak the Catalan and Basque languages in the interest of promoting Spain as a Madrid-run Castilian-speaking unified country.
Spain's central government argues that under the constitution only it has the authority to call a referendum. In 2008 it blocked a bid by the regional government of the northern Basque Country to hold its own referendum on secession from Spain.