Santos and Chavez meet Lobo and agree on helping Honduras return to the OAS
Monday, April 11th 2011 - 05:18 UTC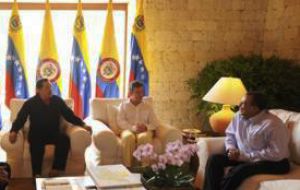 The presidents of Colombia, Venezuela Juan Manuel Santos and Hugo Chavez held a non announced meeting with their Honduran peer Pofirio Lobo and said they were committed to help the outcast country rejoin the Latin American family by returning to the Organization of American States, OAS.
"I am very glad the meeting has initiated the incorporation of Honduras into regional bodies like the OAS" said President Lobo after the meeting in Colombia.
Honduras' OAS membership was suspended in 2009 shortly after the coup which ousted elected President Manuel Zelaya.
Venezuelan President Hugo Chavez, as well as other countries such as Brazil and Argentina have not recognized the Lobo's administration and have gone as far as rejecting to meet the Honduran elected leader.
However other countries such as the US, Panama and Colombia have given their support to the Lobo administration born out of elections in early 2010 and according to the Honduran political calendar.
Acting as mediator Colombia's Santos during the meeting with Chavez and Lobo, said the OAS General Assembly would meet in June and that he hoped by then a plan would be ready for Honduras to return to the organization.
"We wanted to help fix the problem with Honduras" Santos said. "I hope this meeting will become a further step toward the final settlement of Honduras' problem with the OAS and that the OAS will accept Honduras' return as a full member of that organization".
President Lobos said he had agreed to some of the conditions demanded by President Chavez among which to allow the return of former president Zelaya to Honduras with immunity from prosecution.
Zelaya was ousted by the military following instructions from the Honduras Supreme Court and Congress for his alleged intention of promoting a constitutional amendment for his re-election, specifically forbidden in the country's constitution.
Following the ousting Honduras was expelled from the OAS and Zelaya sought refuge in Costa Rica from where he returned illegally to the Brazilian embassy in Tegucigalpa but finally left and currently is in exile in the Dominican Republic.