U2 current worldwide tour nets 558m; beats Rolling Stones record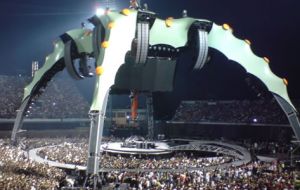 U2's current worldwide 360° tour has become the highest grossing in history, beating the record previously set by The Rolling Stones between the years 2005-2007, reported Live Nation Entertainment.
The Irish rockers passed the 558 million US dollars world record following their sold-out concert in Sao Paolo, Brazil, Sunday night.
The tour kicked off in July 2009 in Barcelona and still has 26 gigs to go with final ticket sales forecasted to surpass 700 million US dollars. More than seven million tickets have been sold to date for 110 shows.
On average U2's 360° Tour packs out 63,000 people each show, taking 6.4 million USD according to Billboard Boxscore.
"These numbers are staggering, a fantastic result" Arthur Fogel U2's tour promoter and producer said. "An in-the-round transportable stadium production is something that the touring industry has been trying to figure out for some time. The extra capacity that the U2 360° creates also allows for a large number, several thousand in fact, of low priced tickets at every show."
U2's manager Paul McGuinness said the team is proud of the tour. "That dollar figure for the gross looks enormous! Of course I can't tell you what the net is, but I can tell you that the band spend enormous sums on production for their audience," he said.
The band has played to 5 million people across Europe, Russia, North America, South America, South Africa, Australia and New Zealand, according to Live Nation. By the tour's end, more than 7 million people will have seen it.
The final date is 30 July 2011 at the Magnetic Music Hill Musical Festival in Moncton, Canada. Arcade Fire will be the support act. Before that, they will headline the Friday night of this year's Glastonbury festival on 24 June.
It will be the band's debut at Worthy Farm in Pilton, Somerset. Their 2010 show was cancelled because lead singer Bono injured his back.