Decline of bee population becomes a threat for Chile's fruit industry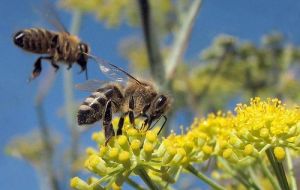 The Chilean fruit industry is being threatened by the rapid decline of the country's bee population, a product by the country's ongoing drought.
Water shortages across central Chile are withering the flower buds, depriving bees of their sustenance, the nectar.
This year's honey harvest has fallen by 60 to 70%, according to the National Beekepeeping Association, a producers group.
Since many of Chile's main fruit exports - such as avocado and apples - are pollinated by bees, experts are warning of a domino effect on the country's agriculture, a big part of the economy.
"A large part of the national fruit production requires bees for pollination," said Mario Gallardo, professor of apiculture at the Universidad de Chile.
"This insect has a tendency to specialize," he explained. "For example, once it pollinates an apple, it stays loyal to the fruit. The resulting pollinating efficiency is enormous."
Bees aid plant reproduction by transferring fertile pollen between trees. Agricultural plants can also be pollinated manually or naturally by wind, but other methods are more costly or less efficient.
Although small, the Chilean bee industry has played an important role in the expansion of national agriculture. There are around 5,000 full-time beekeepers in the country.
Many lead a "semi-nomadic" existence, traversing the area between the Valparaiso and Bío Bío regions to exploit the different blooming seasons.
The Beekeeper's Association president, Marcelo Rodríguez Fernández, however, warns that unless beekeeping conditions improve by year's end, many smaller producers will be out of business.
"The La Niña weather front that's been responsible for the current drought will last until at least the fall," he said. "If either the rains don't come or the government doesn't create comprehensive aid schemes, the situation will become unsustainable.
"The whole Bío-Bío Region has already been declared an 'emergency zone' by the government because of the drought," he added.
Authorities are slowly realizing the cost of losing the bees and aid schemes are now being elaborated at the regional level.
The Valparaiso Region, for example, has recently bought 10,000 kilos of fructose to feed the bees in the absence of flowers.
In 2010, Chile exported 21 million US dollars worth of honey and 1 million USD worth of live queen bees, with Germany taking the lion's share of the exports.
The bulk of the Chilean honey is of the mid-market multi-flower variety, although the country also boasts several premium single-blend varieties such as the smooth Ulma honey.
The drought-related decline of Chile's apiculture adds to the global plight of the bees.
Many bee populations around the world are in critical state, with climate change, mobile phone signals and pesticide among those blamed for the collapse of global bee colonies.
By Anatoly Kurmanaev - Santiago Times