IMF approves Uruguay's performance but road ahead has many uncertainties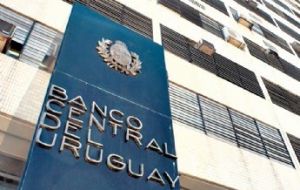 Uruguay's growth estimate for this year remains at 5% but is forecasted at 4.2% for 2012 with warnings on the economy's over-heating, significant inflow of capital and inflation, according to the IMF World Economic Outlook released this week. In 2010 the Uruguayan economy expanded 8.5%.
The IMF report has Uruguay next to Brazil, Chile, Colombia and Peru as 'financially integrated commodities exporters' (FICE) and states that the "outlook for commodity exporters is generally positive", although it warns that potential overheating and capital inflows have caused policy tensions.
"For example, real credit growth in Brazil and Colombia is increasing by 10 to 20% a year according to the most recent data. Furthermore, per capita credit in Brazil roughly doubled over the past five years".
As to inflation the IMF report increased its 2011 estimate to 6.4% which is above the Uruguayan government's 4% to 6%; and for 2012 the estimate is 6%.
The report says focus should be on fiscal policies, particularly given the region's tendency to implement pro-cyclical policies.
And in the case of FICE countries this becomes imperative because of the pressure from "strong capital inflows, appreciated exchange rates and monetary policies that are higher than in other economies".
"Macro-prudential policies should concentrate on maintaining and reinforcing the resistance capacity to problems that could be generated by an acceleration of domestic credit and the inflow of capital".
The IMF recommends that policies should guarantee that capital inflows are directed to long term financing and that 'budget exposure be managed active and prudently'. This is particularly imperative for FICE countries, which includes Uruguay.
IMF also points out the relevance of Brazil for Uruguay: not only it is the main trade partner (exports and imports) but it is also "the only country with which Uruguay has improved its competitiveness".
Therefore an abrupt economic activity deceleration from Brazil could have a most adverse impact for the region.