UK Europe Minister praises relation with Spain, but underlines no compromise on Gibraltar
Wednesday, April 13th 2011 - 17:10 UTC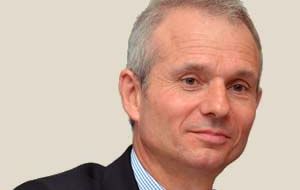 The Right Honourable David Lidington MP, the UK Minister of State for Europe, paid a short overnight familiarisation visit to Gibraltar, arriving Tuesday and leaving Wednesday lunchtime
He met with the Governor, the Chief Minister, the Leader of the Opposition Mr Fabian Picardo MP and Dr Joseph Garcia MP. MP Lidington later attended a Drinks reception hosted by the Governor with representatives of Gibraltar society and on Wednesday he met with the Commander of British Forces, and had a short 'Rock Tour'.
His visit has upset Spanish Conservative opposition PP MP Jose Ignacio Landaluce and follows on from the British Royal visit to Spain and Prince Felipe's call for talks to resolve the "bilateral issues" (Gibraltar dispute).
At the end of his visit, MP Lidington gave a short press conference with Gibraltar Chief Minister Peter Caruana attended by a number of local and Spanish journalists.
The UK Minister of State said he had seen a rich and detailed snapshot of Gibraltar and even this brief visit had given him an improved insight into things and the strength and diversity of the economy and he had met a range of business people and discussed their plans for the future.
He stated that Britain had a strong relationship with the Government of Spain, but wanted to make it clear there would be no compromise over the sovereignty of Gibraltar and there would be no talks on this without the consent of the people of Gibraltar, and he particularly stressed that 'what was said in private was exactly what was said in public'.
MP Lidington reiterated UK's commitment to the trilateral process (UK, Spain, Gibraltar), and underlined that the continued (Spanish Guardia Civil) marine incursions needed a solution.
Finally he pointed out that the prosperity if Gibraltar was good for Spain and would provide jobs for people of the Campo and similarly a richer Spain was good for the people of Gibraltar.
"There are very many things for the UK and Spanish governments to talk about. The respective different positions over Gibraltar are well understood but there are other issues, like the situation in Libya, the EU budget and relations between the EU and Latin America" said the UK Minister for Europe adding that "in respect of these the government wants the strong bilateral relationship between Spain and the UK to be developed further".
Picture/story credit: gibnews.net