Obama insists on reforming tax-code and making the rich pay more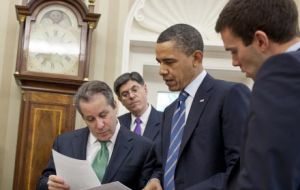 US President Barack Obama said the United States must use the tax code to help meet its targets for reducing the deficit and said that the wealthiest Americans must help achieve that goal.
At a meeting Thursday in the Oval Office with Democrat Erskine Bowles and Republican Alan Simpson, who led the bipartisan panel that formed recommendations on reducing the US budget deficit.
Obama said that the commission's framework had shaped his thinking on how to tackle the issue.
Obama said he was meeting with the two men to solicit their advice after laying out his plan on Wednesday for reducing the deficit by 4 trillion US dollars over 12 years through spending cuts and tax increases on the rich.
"It's important that we look at our tax code and find a way to work together to not only simplify and make the tax system fairer but also that we use it as a tool to help us achieve our deficit targets," he said.
"It's not appropriate for us to ask for sacrifices from everybody except for the two percent of Americans who are doing best," he continued. "We should ask everybody to participate in this effort to get our fiscal house in order."
Republicans have charged Obama with proposing tax hikes that would hurt businesses and the economy.
Meanwhile the US Congress sent President Barack Obama legislation making 38 billion US dollars in cuts from domestic programs. The Senate vote was 81-19. It came not long after the House gave its approval, 260-167. Fifteen Republican senators, three Democrats, and one independent (who caucuses with Democrats) voted against the measure
The bill was the product of negotiations involving the White House, House Republicans and Senate Democrats, who reached agreement last week in barely enough time to avert a threatened government shutdown. The legislation drew support from lawmakers in both parties, but little if any enthusiasm. Its passage closes the books on the current budget year.