EU agriculture impact report before presenting "proposal list" to Mercosur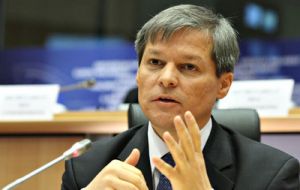 The European Commission will be presenting in the next weeks a report on the consequences for the European agriculture of a trade agreement with Mercosur, announced EU Agriculture Commissioner Dacian Ciolos following a Thursday meeting of the Agriculture Council in Luxembourg.
"The initial results of an analysis carried out by the EC to assess the consequences of an agreement with Mercosur, on certain sensitive sectors, will be presented to the member states experts on 27 April" Ciolos informed the Agriculture ministers.
The risks involved in further opening of the EU market to products, especially beef, from Mercosur countries (Argentina, Brazil, Paraguay and Uruguay) were highlighted by Ireland, with support from France, Italy, Austria, Greece, Romania, Poland, Belgium, Slovenia and Portugal.
Eleven member states urged the Commission to adopt a "cautious approach" in these trade talks, based on an impact assessment.
Sweden and the Netherlands argued for a "broad and balanced" agreement that also covers animal welfare issues.
EU and Mercosur have resumed negotiations for an association and trade agreement and are currently involved in a round of discussions, the last of which in Brussels, the next in Asuncion. The two sides are preparing to present their proposals on market access and tariffs.
However Ciolos explained that market access offers "would not be made" at the next negotiating session with Mercosur, on 2-6 May in Asunción, Paraguay.
"That session will focus on exploring the level of reciprocal ambitions" he said, adding that any market opening offer would have to be "balanced" and "shared with member states" before being proposed to Mercosur members.
In related news in Brussels France's Prime Minister Francois Fillon called for a freeze in the EU budget, while at the same time safeguarding spending on agriculture. EU countries are set to start discussions later this year on the bloc's seven-year budget - one of the fiercest negotiation battles in Brussels.
"We must simply realize that these negotiations take place in a context of very severe constraints on national budgets, and these constraints must be taken into account here in Brussels" Fillon said after talks with European Commission President Jose Manuel Barroso.
France, along with Germany, Finland and the Netherlands, signed up to a British-inspired letter in December calling for annual increases in the EU 2013-2020 budget to be kept under the rate of inflation.
"We ask for the same effort from the EU budget as is being made in national budgets, that is, stability in spending" the French premier said. However, the EU Common Agriculture Policy, a longtime pet policy of France, should not bear the brunt of budget cuts, Fillon warned.
"Under no circumstance can agriculture become a second-rate priority for the EU budget", emphasized the French PM.