IMF chief warns on the dangerous cocktail of unemployment and inequality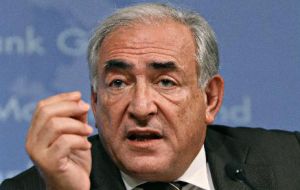 Economic stability depends on a strong middle class that can propel demand. We will not see this if growth does not lead to decent jobs, or if growth rewards the favoured few over the marginalized many.
The statements belong to the head of the International Monetary Fund himself, Dominique Strauss-Kahn, in a speech that shows the organization's growing concern towards social issues.
While offering a speech before members of the Brookings Institute, Strauss-Khan warned about the dangerous risks posed by inequality policies and used, as an example, the dangerous cocktail of unemployment and inequality, along with political tensions in the Middle East and Northern Africa.
The IMF director was adamant to stress that the organization cannot be indifferent to distribution issues. He then warned that the recovery and growth of the global economy is not creating enough jobs, at least in the advanced economies. Unemployment is at record levels. The crisis threw 30 million people out of work. And over 200 million people are looking for jobs all across the world today, he explained.
The crisis is hitting the young especially hard, and what should have been a brief spell in unemployment is turning into a life sentence, possibly for a whole lost generation.
Regarding solutions, he expressed that, just under the umbrella of the G-20, policymakers came together to avoid an international financial crisis, it is now time for a similar full force forward response in order to achieve a recovery that is sustainable and balanced among countries, but also one that brings employment and fair wealth distribution.
Strauss-Khan said that it is necessary to reform and repair the financial system so banks are put back in the service of the real economy, and direct credit to small and medium-term enterprises, the key drivers of employment and indeed of growth.
Regarding labour markets, the IMF head suggested getting past the binary and unhelpful contrast between flexibility and rigidity, adding that it is now time to be pragmatic.
IMF research suggests that inequality can make countries more prone to financial crises, and that sustainable growth over time is associated with a more equal income distribution, he explained.
He concluded by stating that we need policies to reduce inequality, and said that investment in health and education is critical.