Argentina joins manufacturing of Brazil's KC 390 jet powered military transport
Tuesday, April 19th 2011 - 13:53 UTC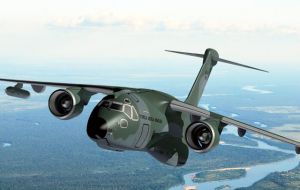 Brazil and Argentina aircraft industries have signed a partnership contract for the manufacturing of the Embraer KC 390, a medium sized twin engine jet powered military transport aircraft with a 23 tons capacity.
The contract was signed in Rio do Janeiro by Embraer Defence and Security Department and Argentina's Fabrica Argentina de Aviones, FAdeA. Under the agreement FAdeA will manufacture the spoilers (plates on the top surface of a wing for controlling wing lift), doors for the nose landing gear, ramp door, flap fairings, tail cone, and electronic cabinet.
"FAdeA's participation in the KC-390 program strengthens the cooperation between the defence technological and industrial bases of both countries, strictly in line with Brazil's National Defence Strategy", said Luiz Carlos Aguiar, President of Embraer Defence and Security.
The agreement follows on from the Declaration of Intent signed by the Brazilian and Argentine Ministries of Defence in October 2010, which reinforces the commitment of the Argentine government to acquire six KC-390 aircraft.
The development program of the aircraft is moving ahead as planned with production of the first prototype scheduled for 2013 and the first take off in 2014.
"This contract brings the aeronautical industries of both countries together and opens excellent possibilities for our recently recuperated company and for boosting trade relations between the two largest countries in the region" said Jaime Saiegh, FAdeA President.
FAdeA is heir to the long established Fábrica Militar de Aviones (FMA), which designs, manufactures, modernizes and performs maintenance on civilian and military aircraft, manufactures airplane parts, offers a number of engineering services including refurbishing of Argentine Air Force aircraft.
FAdeA is located in Cordoba and is at the heart of renowned universities and technical training institutions, particularly in aeronautics and avionics. In its eighty year history is has manufactured over 1,500 aircraft and developed an incipient missile technology.
Embraer is Brazil's leading aerospace corporation with a world reputation in the manufacturing for medium range transport aircraft, private jets plus space and military projects in conjunction with the country's armed forces.
The KC 390 will incorporate many of the technological solutions from the Embraer E.Jets series. The air lifter will have a rear ramp for loading and unloading a wide range of cargo. The unit price is estimated to be around 50 million US dollars while the competition sells similar models, such as the C-130J for up to 62 million USD.
The vice president of Embraer, Luís Carlos Aguilar, said that according to their estimates, some 695 military transport aircraft in the world will need to be replaced during the next decade, and that there is potential market for this kind of plane.
Besides the Brazilian three services orders and Argentina, Portugal, France and the Czech Republic have shown an interest in the transport aircraft.