Falklands' explosives disposal team has dealt with 2.8 million ordnance items in 29 years
Tuesday, April 19th 2011 - 04:41 UTC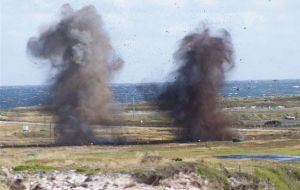 After almost twenty nine years of service to the Falkland Islands the Joint Services Explosive Ordnance Disposal team based at Hillside Camp in the capital Stanley will be transferring its service to JSEOD teams based at the Mount Pleasant Complex.
The Stanley based JSEOD team has provided ordnance disposal to the Falklands since the 1982 War and has dealt with over 2.8 million items of ordnance from bullets, flares and grenades to rockets, mortar shells and 1000lb bombs.
Warrant Officer Pete Cornell the leader of JSEOD at Hillside said that during his four years of EOD in the Falklands he has had to deal with the full spectrum of conflict ordnance including unexploded naval shells from the World Wars.
Warrant Officer Cornell says that he is pleased that the EOD service will continue to support the Falklands community, being based at MPC they will have better access to additional resources including helicopter support.
Although the threat has been considerably reduced, Cornell reminded Islanders that there is still "a lot of unexploded ordnance on the 1982 battlefields, so people should still be careful when out and about in those areas".
Warrant Officer Cornell says that he has been impressed by the cooperation of the Fire and Rescue Service, Royal Falkland Islands Police and the community here in Stanley, saying a big thank you to them all.
Although JSEOD will move to MPC, Hillside Camp will remain open, providing a centre for welfare and force development.
An MPA military spokesman says that it is important to note that this move does not represent a reduction in the capability of EOD support to the Falkland Islands.
Some 83 minefields and suspected hazardous areas remain in the Falklands with over 15.600 mines, which were planted by Argentine forces during their 74 day occupation of the Islands.
The numbers were made public by Lord Astor of Hever UK Parliamentary Secretary of State, Defence, during a written answers and statements, 28 February 2011 in the British Parliament.
Over 18,000 (14,000 anti-personnel and 4,000 anti-vehicle) mines are estimated to have been laid by the Argentine armed forces in some 113 minefields and four other suspected areas during the conflict, according to Lord Astor.
Over 1,000 Argentine anti-personnel, 80 anti-vehicle mines and 1,000 booby traps were cleared in 30 minefields in the immediate aftermath. All UK-emplaced mines in five anti-personnel minefields around the then RAF Stanley were lifted immediately after the cessation of hostilities.
Finally "the 2009-10 pilot project cleared a further four minefields of 1,246 (678 anti-personnel and 568 anti-vehicle) mines".
Falkland Islands' next phase of minefield clearance will take place in Stanley Common. The announcement was made after the visit last February of a team from the Foreign Office and following consultations with Falklands' Members of the Legislative Assembly. (FIRS & PN).-