Geithner warns US budget trimming battle in Congress has a deadline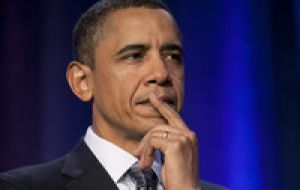 United States Treasury Secretary Timothy Geithner said he was confident Congress would raise the country's debt limit and that it may need to do so before a deal is reached to rein in future budget deficits.
"Congress is going to have to raise the debt limit," he said in an interview on NBC "Meet the Press".
"The responsible people (on Capitol Hill) understand that," he said. "And I'm very confident they'll do this".
Geithner has warned lawmakers that the legally set 14.3 trillion US dollars debt limit will be reached by May 16, although Treasury could push back the day of reckoning until about July 8 by taking extraordinary action.
If the ceiling on the nation's borrowing is not lifted, the government would eventually default on its debts. Geithner said lawmakers know they must avoid the damage to national credibility that a default would cause.
Republicans have sought to use the need to raise the debt limit as a lever to push for big spending cuts. The Republican-led House of Representatives last Friday approved a plan to slash spending by nearly 6 trillion USD over a decade and cut benefits for the elderly and poor.
President Barack Obama has offered a competing vision to curb deficits by 4 trillion USD over 12 years.
Geithner said it may not be possible to cut a deal by the time the debt limit needs to be raised.
"I think you can do these things in parallel," he said. "But if by the time we need to raise the debt limit, we haven't worked all that out, Congress still has to raise the debt limit."
Geithner claimed that, politics aside, there is less difference than many claim between the deficit-cutting objectives of the Obama administration and Republicans.
"What we would like Congress to do is, before we get too far into June ... agree on concrete targets, deadlines, timelines and an enforcement mechanism that will force Congress to live within its means over the next three to five years," he said.
Geithner said an overhaul of the US corporate tax system, which would lower rates, was "doable" this year because it should be possible to attract bipartisan support if it was structured as a way to attract investment.