Private property returns after 50 years: Cubans allowed to buy and sell their homes
Tuesday, April 19th 2011 - 04:57 UTC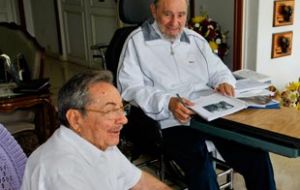 Cuba says it will allow people to buy and sell their homes for the first time since the communist revolution in 1959. For the past 50 years, Cubans have only been allowed to pass on their homes to their children, or to swap them through a complicated and often corrupt system.
The move was decided during the first congress held by the ruling Communist Party in 14 years, aimed at breathing new life into the communist system. No details were given on how the new property sales could work.
Cuban President Raul Castro warned that the concentration of property would not be allowed.
During the congress, President Castro also said top political positions should be limited to two five-year terms, and promised "systematic rejuvenation" of the government.
He said the party leadership was in need of renewal and should subject itself to severe self-criticism. The proposal is unprecedented under Cuban communism.
In an editorial published in Cuban state media, former president and leader of the 1959 revolution Fidel Castro endorsed the changes saying his brother's words made him proud.
He wrote that a new generation was needed to correct the errors of the past to ensure the communist system survived once the current generation of leaders had gone.
Cuba's Communist Party approved the reforms on Monday. State media reported that party members also voted for a new party leadership, but the results were not immediately disclosed.
Other key points raised by Raul Castro include laws allowing the self-employed and "the general population" to access credit; more than 200,000 Cubans have taken out licenses to open small businesses since October, when the private sector was expanded; the ration book is an "unbearable weight on the economy" but won't be eliminated without first creating better economic conditions; the Communist Party should not be involved in administration of the state, and leaders should eradicate the misconception that belonging to the Communist Party is a prerequisite for holding a government post; there must be "systematic rejuvenation" of all key posts, including president and Communist Party chief .
Raul Castro finally reiterated his inclination to hold talks with the United States.