Car companies comply with Argentina's import/export balance policy
Friday, April 22nd 2011 - 04:48 UTC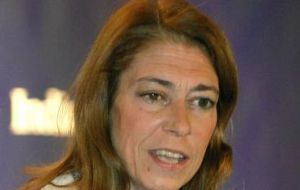 Argentina reached an agreement with the French conglomerate Peugeot-Citroen and the importers of Italy's Alfa Romeo, to balance imports-exports value, following on Argentina's latest regulations for the country's auto industry.
Economy minister Amado Boudou, Industry Minister Débora Giorgi and Domestic Trade Secretary Guillermo Moreno approved the import-export program put forward for Peugeot Citroën, Alfa Romeo car companies, in a pact to try to equalize the balance of trade over the next year.
These car companies form part of a list of many that have already made trade agreements with the government of President Cristina Fernandez de Kirchner, such as Volkswagen, Mercedes Benz and Porche. Other companies that have presented proposals include Hyundai, Kia and Ditecar which represents Volvo, Jaguar and Land Rover.
Between Monday and Tuesday next week, Giorgi alongside Economy Minister Amado Boudou, will sign the new agreements, according to sources from the Industry Ministry.
The Peugeot-Citroën program will see the Argentine branch turn a 2010 deficit of 315 million US dollars to a surplus in 2012 of 61 million USD. Alfa Romeo will also be exporting from Argentina for the first time.
In support of this agreement, exports will increase by 600 million from the production of the Peugeot 408 model, the most recent launched in Argentina.
The new model, which was presented by President Cristina Fernández de Kirchner, last November, will maintain a production of 40,000 units per year; 75% of which will be exported to other Latin American countries. A new model is in the drawing board and could see the light before the end of the year according to industry sources.
Alfa Romeo also presented a bio-diesel plant project which with an investment of 2.5 million USD should enable the company to begin exporting 'green' fuel in 2012 with a target of 11.5 million USD. If the project is not achieved in the planned time table the Italian corporation will compensate with a capital investment.