Coffee prices at highest since 1977 pushed by poor harvest and weak dollar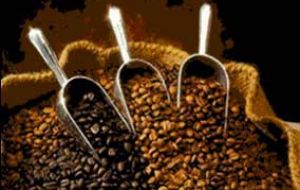 Coffee prices topped 3 US dollars a pound in New York for the first time since 1977, as prospects of another production deficit combined with a sliding dollar to encourage fund buying.
New York's best-traded July Arabica contract hit 302.50 cents a pound, the highest for a nearest-but-one contract since 1977, in the aftermath of a devastating frost in Brazil, the world's biggest producer, two years earlier.
Last week's rise came against a backdrop of a squeeze in coffee supplies, which the International Coffee Organisation expects to fall behind demand in 2010-11 for a fourth successive year.
A fifth deficit is likely in 2011-12, given that the season will be an "off" one in Brazil's two-year cycle of higher and lower output.
However, buyers were also encouraged by a weaker dollar, which dipped 0.9% against a basket of currencies to its lowest level since the end of 2009. A cheaper greenback makes dollar-denominated assets less expensive to buyers in other currencies.
One factor which may be encouraging buyers is the approach of the southern hemisphere winter, and with it the risk of another Brazilian frost.