Mexico antitrust commission slaps 1 billion USD fine on mobile phone operator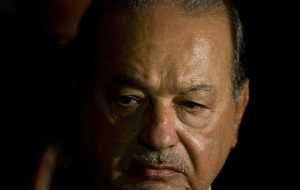 Mexico's antitrust commission confirmed Sunday that it has fined the country's biggest mobile phone operator over 1 billion US dollars on grounds that it used its market weight and interconnection fees to displace competitors.
The Federal Competition Commission, or CFC, said in a press release that the 11.99 billion peso fine against America Movil SAB (AMX, AMX.MX) unit Telcel is equivalent to 10% of the unit's assets, the maximum fine allowed for repeat offenses.
America Movil, controlled by billionaire Carlos Slim, said on April 16 that it had been notified of the fine and that it plans to defend its case.
The CFC said its commissioners voted 2-2 with one abstention in favor of the fine, with commission President Eduardo Perez Motta using his tie-breaking vote to uphold the decision. The company has 30 days to seek reconsideration at the commission, and can also take the matter through the courts, which could drag on months or years.
The ruling followed an investigation of charges filed in 2006 by smaller phone operators Axtel SAB (AXTEL.MX), Alestra, Marcatel, Megacable (MEGA.MX), Protel and Telefonica SA (TEF), according to the commission.
The CFC said it determined that Telcel increases the costs of its competitors by charging interconnection fees to terminate calls on the Telcel network that are above the implied charges for calls made within its own network, or even above the final charges Telcel makes to its own customers.
About 70% of the country's 91 million mobile users are Telcel customers, giving the company what the commission calls "substantial market power." CFC said Telcel has 30 days to present a proposal for complying with the ruling to desist from the anticompetitive practice.
Mobile interconnection fees are at the center of an ongoing dispute between America Movil, which also owns about 60% of fixed-line company Telefonos de Mexico (TMX, TELMEX.MX), and the country's smaller phone operators, including cable units of television company Grupo Televisa (TV, TLEVISA.MX).
A coalition of smaller phone companies has joined forces in efforts to bring down Telcel's interconnection fees from their current 95 Mexican cents (8 U.S. cents) per minute. That fee was agreed by Telcel, Telmex, and Telefonica, but many operators have rejected it as too high.
In its most recent ruling, the Federal Telecommunications Commission set the rate that Telcel should charge Alestra for completing calls on its network at 39 Mexican cents a minute.