Scientific studies reveal Chile's most active fault lines and warning for major projects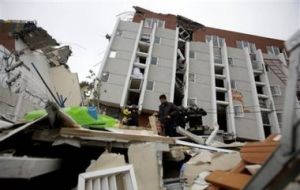 New studies undertaken by Universidad Católica and Universidad de Chile have identified the five most active fault lines in Chile in the hopes of protecting people from future earthquake damage.
The research also examined seismic activity that followed last year's Feb. 27 8.8-magnitude earthquake, and determined that a strong 6.9-magnitude quake two weeks later, on March 11, was not an aftershock, but an entirely distinct earthquake.
The quake emanated from a separate fault line, the Pichilemu Fault, which runs directly under the popular surf destination on Chile's central coast.
"The more complicated fault lines are ones with confirmed seismic activity within the last 10,000 years, which are classified as active faults," Geology professor at Universidad Católica, José Cembrano told El Mercurio.
"This information is incredibly important; we need to know the different consequences of building a house and building a nuclear plant directly above a fault line."
Nuclear facilities are just one a number of projects that could mistakenly be built over Chile's active fault lines, the scientists say. The major hydroelectric project HidroAysén, which would dam 12 rivers in Chile's south for plant, is another example.
"The central hydroelectric dams are going to be built directly above the southern fault line Liquiñe-Ofqui, while various other hydroelectric dams have already been built close to or on top of active fault lines," said Cembrano.
Current construction of seismically stable buildings does not take fault lines into consideration. Moreover, construction regulations do not differ in areas that are more seismically active a point geologists believe calls for improved regulations for development along major fault lines.
The five main fault lines stretch throughout Chile. The first one runs north to south in the Atacama Region in northern Chile, is almost 620 miles long, and has been active for the past 100 million years.
"According to Professor Gabriel Gonzalez of the Universidad Católica del Norte, the fault could generate a earthquake with the magnitude of a 7.0 on the Richter scale every 5,000 years," Cembrano said.
Santiago's San Ramón fault line runs from just outside the city down to Rancagua, is about 18 miles long, and could possibly generate an earthquake, yet there is no conclusive evidence of seismic activity.
There is a small fault in Pichilemu, which is the same fault line which provoked the 6.9 quake in March 2010. It has been especially active since the Feb. 27 quake, and is at least six miles deep, meaning it has been active for at least thousands of years.
By far the longest, the Liquiñe-Ofqui fault line runs below the Andes in southern Chile stretching from near Temuco down 740 miles to Ofqui.
It has been active for 6 million years.
In the southernmost Magallanes Region nearing Antarctica, the Magallanes-Fagnano fault line stretches almost 500 miles from the Pacific Ocean into Argentina.
It registers significant seismic activity and caused a 7.8-magnitude earthquake in 1949.
By Amanda Reynoso-Palley - The Santiago Times