Gibraltar Regiment will provide the Queen's Guard at Buckingham Palace in 2012
Tuesday, April 26th 2011 - 03:30 UTC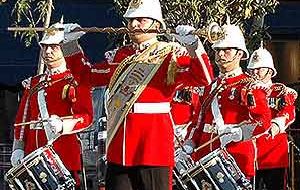 The Royal Gibraltar Regiment will be conducting Royal Public Duties and The Queen's Guard in London during April next year, Lt Col Colin Risso has confirmed in an interview with the Gibraltar Chronicle.
Apart from providing the Queen's Guard at Buckingham Palace, St James Palace and the Tower of London, the Regiment will also have the distinction of firing the 62 Gun Salute in honour of HM birthday on April 21st 2012.
Lt Col Risso explained that no unit has ever done both the Royal Guard and the Royal Gun Salute before and certainly not at the same time.
"Plans are well in advance and we are getting a lot of support from the Ministry of Defence and the Gibraltar Government on this. And make no mistake, we have earned this and it will be a significant occasion for the Regiment and for Gibraltar as a whole."
He also stated that the Regiment will soon be providing soldiers to man the guns on some of the Gibraltar Squadron's boats.
Lt Col Risso said that "true to form," members of the Regiment currently undergoing training in UK ahead of taking up the responsibility for the provision of Explosive Ordinance Disposal in Gibraltar, "not only passed their courses but achieved top class results."
Commenting on the Regiment's counter-terrorism role, Lt Col Risso said they were part of an overall plan involving other units and security agencies. He noted that having the correct capabilities and contingencies in place to respond in any incident was vital in order to make Gibraltar "a tougher nut to crack which is always the first defence against the worst happening."
As regards the "painful and very stringent process" of MoD cuts, Lt Col Risso said they had succeeded in emerging "relatively but not completely unscathed" and that this had been difficult against the backdrop of downsizing. Gibraltar had retained its capability as a valued UK strategic asset, he said.
"The RG continues at its current strength. But be under no illusion, the bottom line is that the RG has survived scrutiny because it is a lean, professional organisation which provides an essential service which is ultimately value for money to the MoD", said Lt Col Risso.