Japan begins discussion of rebuilding budget; damages cost over 300 billion USD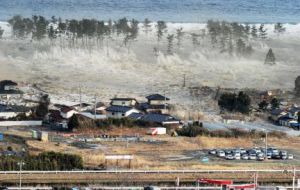 Japan's cabinet approved almost US$50 billion of spending for post-earthquake rebuilding, the country's biggest public works effort in six decades. The emergency budget of 4 trillion Yen, which is likely be followed by more reconstruction spending packages, is still dwarfed by the overall cost of damages caused by the March 11 earthquake and tsunami, estimated at US$300 billion.
"With this budget, we are taking one step forward toward reconstruction ... and toward restarting the economy," Finance Minister Yoshihiko Noda told reporters after a cabinet meeting.
Unpopular Prime Minister Naoto Kan, under fire for his handling of the crisis, said Japan would have to issue fresh government bonds to fund extra budgets to come, and suggested he would stay on to oversee the process.
"I feel it was my destiny to be prime minister when the disasters and nuclear accident took place," Kan told a news conference.
"I want to work for reconstruction and rebuilding, and present an outline to overcome these two crises. To have that vision in sight is my heartfelt desire as a politician."
Financing the next packages will be much tougher, as they are likely to involve a mix of taxes as well as borrowing in the bond market, which could strain Japan's debt-laden economy.
If Kan is unable to steer those laws through parliament, he may be forced to step down, analysts say.
The magnitude 9.0 earth-quake and 15-meter tsunami that followed caused Japan's gravest crisis since World War Two, killing up to 28,000 people and destroying tens of thousands of homes. More than 130,000 people are still living in school gymnasiums and other shelters more than a month after the March 11 quake.
It also smashed a nuclear power plant which began leaking radiation, a situation the plant's operator says could take all year to bring under control.
The budget will be submitted to parliament this week and is expected to be enacted in May.
Prime Minister Kan, who has been accused by opposition politicians, his own party and quake survivors of failing to take command of the response to the triple disaster, has said the need to rebuild is an opportunity for national "rebirth."
A Jiji news agency opinion poll showed Kan's support rate stood at 20.5%, up a scant 1.6 points from the previous month, with more than three out of four voters saying he had exercised little or no leadership over the nuclear crisis. About 57% said they were supportive of a tax rise to finance reconstruction compared with 38.6% who were not.