NZ environmentalists accuse Petrobras oil exploration of penguins' deaths
Thursday, April 28th 2011 - 06:23 UTC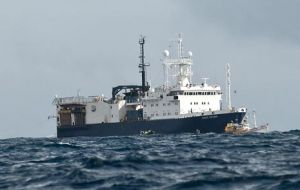 Environmentalists in New Zealand asked the government to halt an offshore oil exploration project being conducted for Brazilian oil giant Petrobras in the wake of the deaths of dozens of penguins, the press reported.
The claimants, who include a Maori group, are demanding an investigation to determine whether the sea birds died due to the ultrasound and seismic scans being used in the Petrobras exploration project.
New Zealand's Environment and Conservation Organizations, ECO, group cited a recent study that found that squid, octopuses and cuttlefish died from ultrasound exploration for oil and gas in Spain between 2001 and 2003.
"The scientists found that the organs that allow squid, octopuses and cuttlefish to balance themselves and carry out their movements were damaged, preventing them from feeding or moving, and they were left at the mercy of predators," ECO co-chairman Barry Weeber said.
Environmentalists have been following the ships conducting the exploration work for Petrobras off New Zealand's North Island since the beginning of this month.
Environmental groups fear that offshore oil production will lead to spills like the one that affected the Gulf of Mexico after BP's Deepwater Horizon drilling rig exploded on April 20, 2010, while working in the Macondo field.
Petrobras temporarily suspended a survey of offshore areas in New Zealand on April 10 after several environmental activists jumped into the water to block the passage of the ship conducting the study. Petrobras ordered Orient Explorer to halt all activities.
The Brazilian corporation began exploring this month for oil and gas in a 12,000 sq. kilometres area in the Raukumara Basin off East Cape. Last year the corporation was awarded oil and gas off-shore exploration licences.