Brazil furious with Human Rights Commission decision cuts all relations
Saturday, April 30th 2011 - 22:34 UTC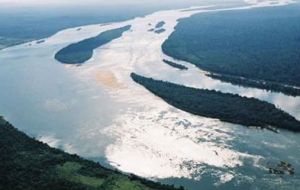 Brazilian president Dilma Rousseff decided to cut all relations with the Inter American Human Rights Court following on the CIDH decision to request that the construction of a huge dam in the Amazon be suspended, following an appeal from indigenous groups.
Government sources quoted by Folha de Sao Paulo report that Rousseff ordered the Brazilian ambassador before the Organization of American States, Ruy Casaes to remain in Brasilia in a clear signal of protest to the CIDH.
At the beginning of April the CIDH voted an interim measure to suspend the construction of the massive Belo Monte hydroelectric plant in the Amazon basin on an appeal through NGO acting in the name of local tribes contrary to the words and flooding.
Belo Monte once finished will be the world's third largest operational dam in the world, behind China's Three Gorges and Brazil/Paraguay's Itaipú.
According to Folha de Sao Paulo President Rousseff is 'disappointed and irritated' with the CIDH interim measure and decided to suspend its annual contribution to the human rights body, approximately 800.000 US dollars.
It also decided to suspend Brazil's 2012 participation in the Americas highest human rights court by desisting to present the candidacy of Paulo Vanucchi former Human Rights minister from the Lula da Silva administration, as member of CIDH.
Folha further adds that President Rousseff is mistrustful of CIDH following on claims from NGO about alleged human rights abuses against poor peoples' shelters that are being forcibly displaced to make room for public works in anticipation of the 2014 World Cup and 2016 Olympics to be hosted by the city of Rio do Janeiro.
Rhe CIDH interim measure to suspend the construction of Belo Monte was rejected by Brazilian Foreign Affairs which described the decision as "unjustifiable" adding that the massive construction complies with Brazilian regulations and in accordance with an ongoing dialogue with the indigenous peoples of the Xingu River.
This is not the first impediment the controversial Belo Monte project has come across.
Last February Brazilian Federal Judge Desterro blocked construction arguing the environmental agency, Ibama, had approved the project without ensuring that 29 environmental conditions had been met.
In particular, he said concerns that the dam would disrupt the flow of the Xingu river, one of the Amazon's main tributaries - had not been met.
The Brazilian government says the 11.000 MW Belo Monte dam is crucial for development and will create jobs, as well as provide electricity to 23 million homes.
Celebrities such as singer Sting and film director James Cameron have joined environmentalists in their campaign against the project.
They say the 6km dam will threaten the survival of a number of indigenous groups and could make some 50,000 people homeless, as 500 sq km of land would be flooded.